Celebrating milestones.
One of the first foreign architectural firms established in China, we opened our Shanghai studio in 1992 after winning an international design competition for the Xiamen Airport. Anticipating an era of urban development and strong economic growth on the horizon, we seized the opportunity to witness and contribute to this transforming architectural milieu. We've evolved into a full-service and fast-moving integrated practice by helping to facilitate the region's swift pace of urbanization with solutions that blend the local context, government economic growth strategies, and emerging trends with international design principles.
In 2020, our Shanghai studio relocated to the new space in the commercial tower portion of the B+H-designed Crystal Galleria on Yuyuan Road—a top retail destination in in the city's vibrant Jing'an District.
Occupying two levels connected by an internal staircase and mezzanine floor, the new space emphasizes the unique architectural characteristics of the building. Its irregular, triangular-shaped floor plan fosters a collaborative and integrated work environment through engaging sightlines and access to generous outdoor views.
The work environment empowers teams to operate as independent yet interconnected "neighborhoods". Each neighbourhood has been customized to suit the style of work for specific individuals and teams. Throughout the floor plan there are alternative, informal areas for teams to meet, socialize, and collaborate for a change of scenery. Multiple tea points are located on each floor and a range of huddle and meeting spaces provide the ideal landscape for cultivating a collaborative community.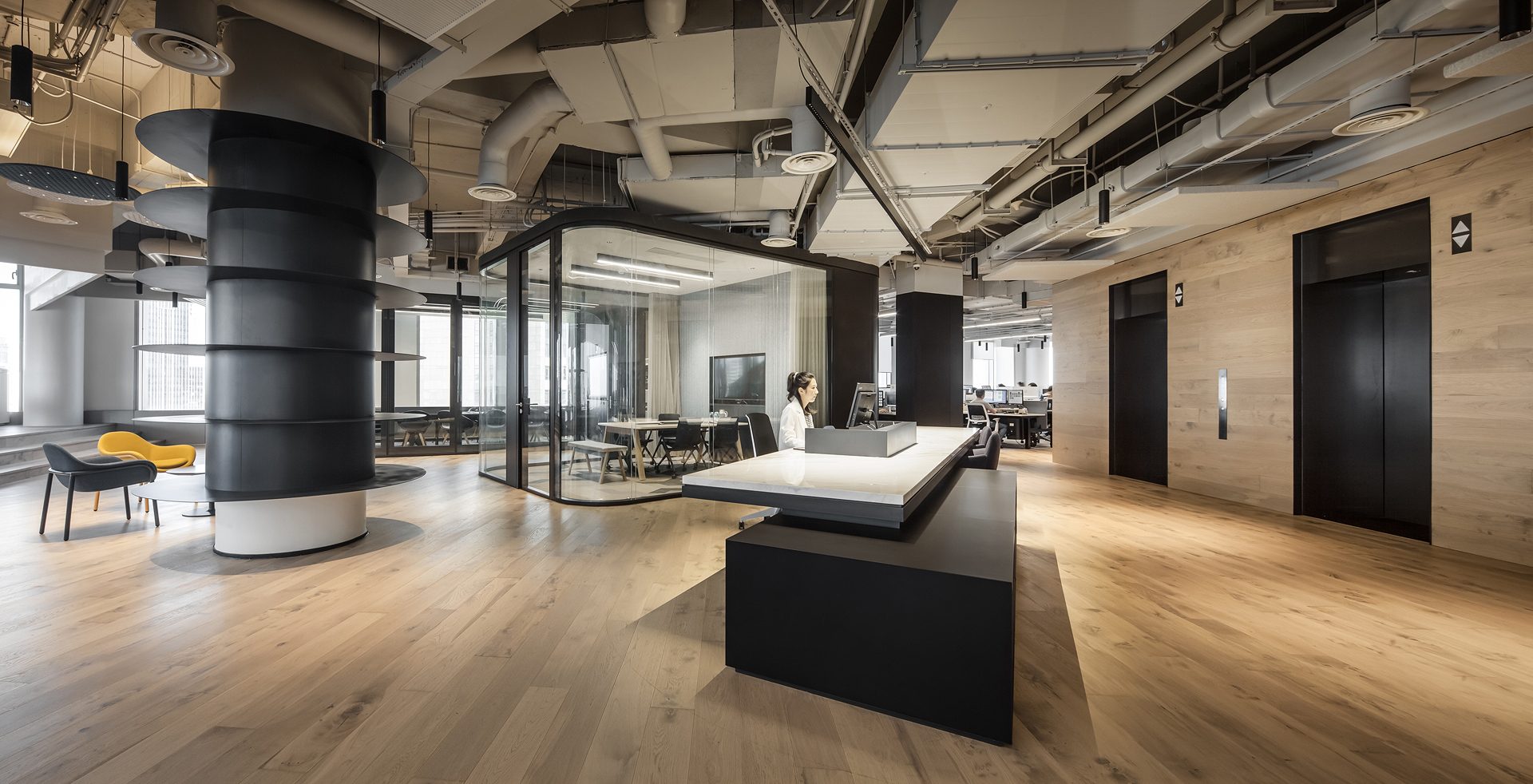 The Open House is a transparent, light-filled area of the office that encompasses the reception bar, open workshop, co-working stations, raised seating area, and various meeting rooms on the lower level. This dynamic space can be used for any number of purposes including Town Halls, design charrettes, group work, informal gatherings, socializing and other activities. A selection of high-quality furniture pieces create a comfortable atmosphere that blurs the boundaries between home and work.
All workstations are height-adjustable and follow best practices in ergonomics to provide a flexible and comfortable work environment that adapts to the needs of users.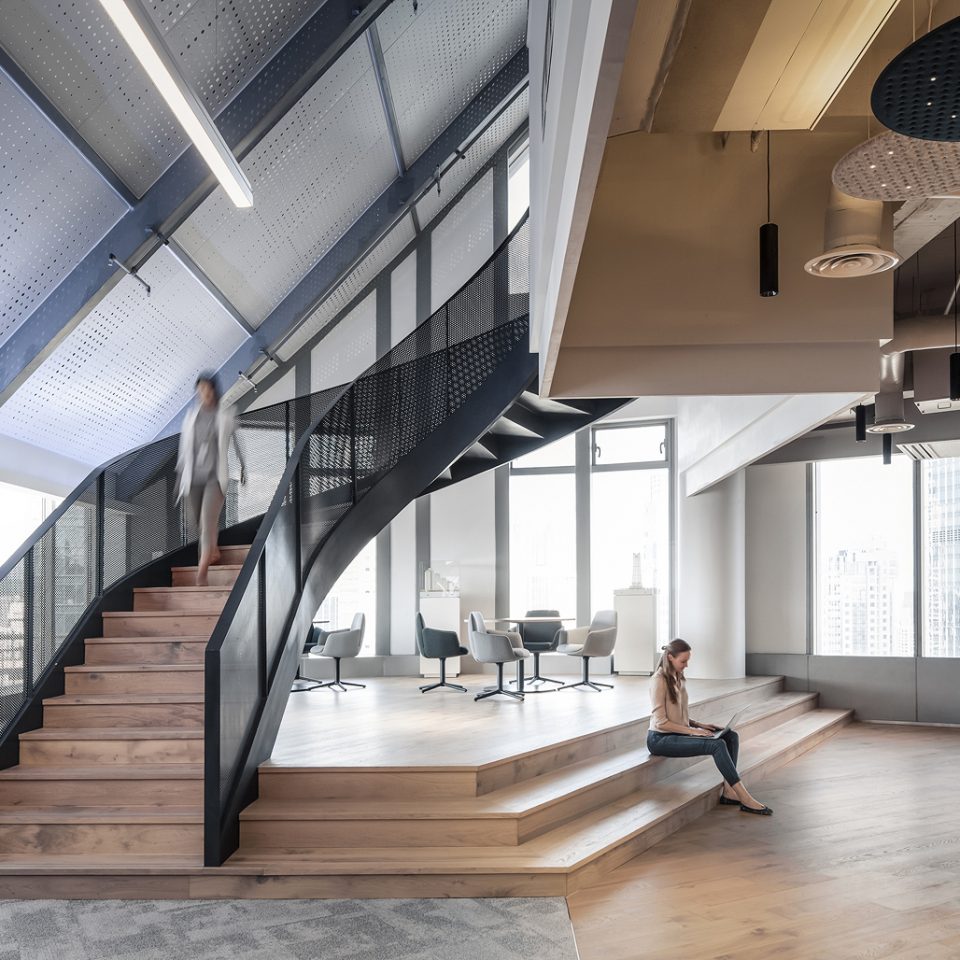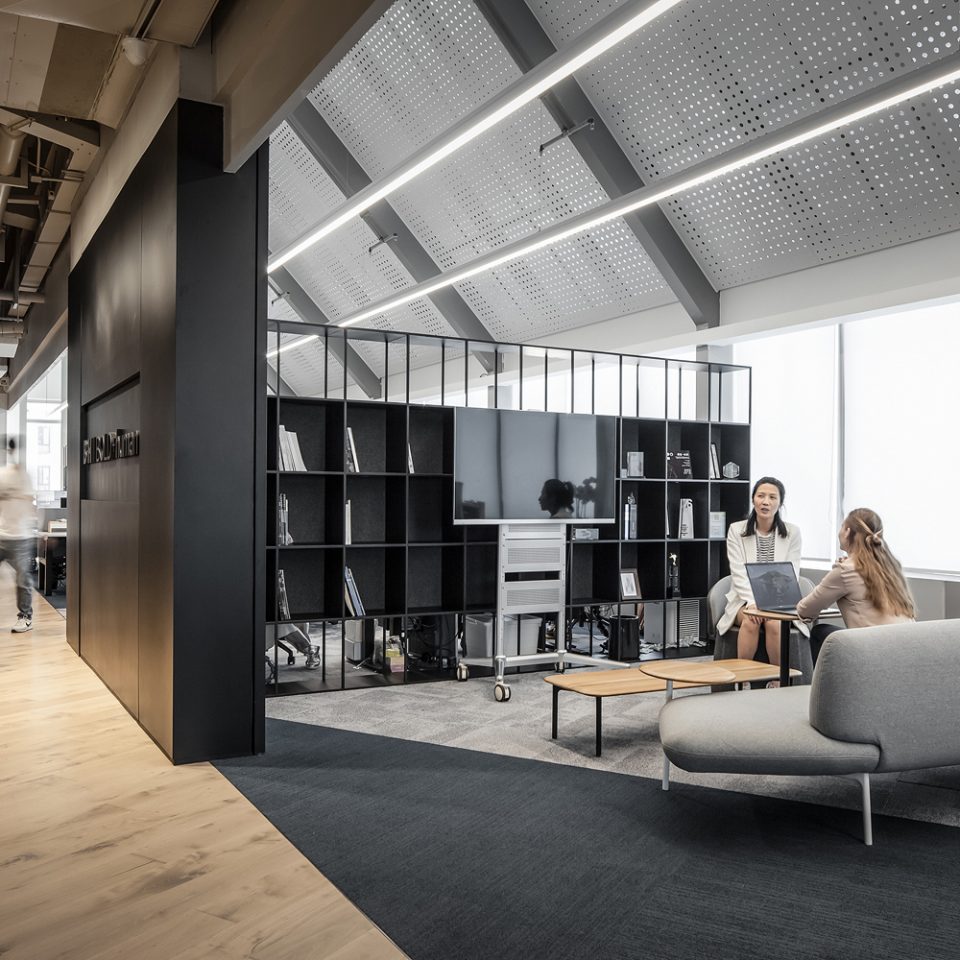 A social meeting spot where colleagues can congregate over a cup of tea, coffee, or lunch, the Pantry is the heart of the studio and a dynamic space that brings people together. Its proximity to the Materials Library further promotes design thinking and spontaneous interactions.
Providing a healthy and safe workplace environment for our staff was a top priority when designing our new studio. A state-of-the-art air purification and sanitization system, and new instant boiling and chilled water filtration system, will ensure staff always have access to clean air and water. All furniture sourced has achieved the UL 2818 – 2013 Gold Standard for Chemical Emissions for Building Materials, Finishes and Furnishings.