Driving City Success
Building a solid framework for China's fast and sustainable growth and development
China's urban growth and development can be summarized as being both rapid and responsive. Characterized by iconic real estate and regeneration developments, China is quickly preparing its urban landscape to better address increasing demand in not only its primary cities but also its secondary and tertiary urban centres. Unprecedented city building and modernization, exponential economic growth, massive infrastructure investment, and extensive corporate expansion define its recent phase of economic development.
As China's top-tier cities are now firmly planted on the international map, they continue to build their profiles and incorporate global best practices to enhance their competitiveness. Now more than ever there exists a greater demand for high-quality real estate in China. Today's global market requires a stronger discipline to ensure robust planning. The design of tomorrow's cities in China requires the right blend of spaces, services, and amenities to create productive, livable, resilient, and sustainable communities and local economies.
As China's cities continue to build their international identities, their ability to remain competitive lies within a focus on quality of life. China is positioning its urban hubs as attractive locations in which to live, work, visit, and do business. Creating cities that shine on the global stage strengthens the country's international brand and secures a positive future.
"An integrated approach allows designers to create developments that seamlessly stitch together various components of the urban fabric." – Sam Shou, Principal
The first of its kind in Huai'an, a second-tier city located in the Jiangsu province of Eastern China, Huai'an Keynes International City (KIC) is an iconic project that positions itself as a catalyst for future development within the city. Currently under construction, the development is defined by two towers and a podium. It includes retail and office space, service apartments, a budget-conscious hotel, and a 5-star Marriott hotel planned for release over three phases. A carefully addressed master plan combines twin high-rise towers grounded by street retail to bring symmetry to the development and offer clear views to adjacent government facilities. Creating a modern, elegant, and minimalist statement in the neighbourhood, KIC stands as a local icon and social attractor for the community.
The design for the twin buildings is inspired by the Chinese character for "brothers", and standing side-by-side, the towers rise together in unison. Both buildings have the capability to display dramatic, hued lighting effects upwards to the night sky that can change to signify and celebrate holiday seasons. Irregular aluminum lines with varying widths rise from bottom to top, appearing fewer and farther in-between, creating an effect where the towers' statures become steadily higher.
Two terraces are arranged on the north and south sides from which watchers can enjoy the views of Huai'an New City. Panoramic views of the city are also available from amenity spaces, including the sleek infinity-edge pool and elegant dining spaces for guests visiting or residing at the upscale Marriott Hotel. Views to the manicured open area ground space that surrounds the building are available to guests of the second hotel located onsite. Attending to the needs of hotel guests, residents, and office workers, underground retail is available on several levels of eclectically-designed, tiered spaces that address everything from daily caffeine cravings to more occasional luxury shopping.
Thoughtfully planned mixed-use developments are integral to the creation of livable and engaging urban destinations. Fulfilling the varied needs and uses of communities, a dynamic development will create compelling destinations for both residents and visitors, alike.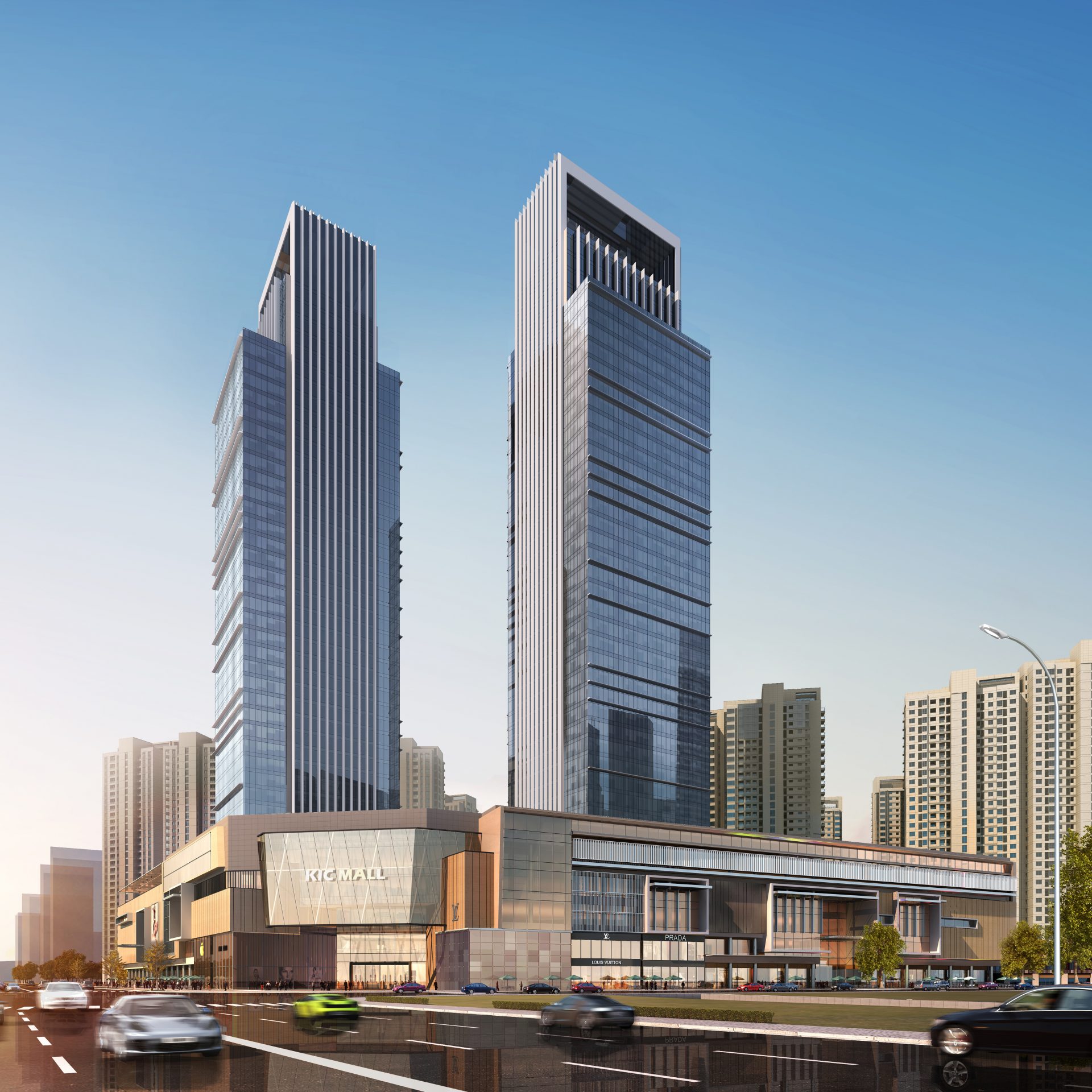 GENERAL PROJECT INFORMATION
Location: Huai'an, Jiangsu Province, China
Size: Retail: 73,510 sqm; Office: 31,705 sqm; Service Apartment: 63,257 sqm; NEQTA Hotel: 11,469 sqm; 5-star Hotel (Marriott): 31,569 sqm
Status: Under construction
Client: Golden Land Group
Services: Architecture, Interior Design + Landscape