Article originally appeared in TimeOut Magazine
Barry Day, the Asia design director of planning and landscape at Canadian-based B+H Architects, shares his views on the important role of innovative and sustainable landscape resort design in promoting eco-luxury tourism in Vietnam.
Can you briefly introduce your career in Vietnam? Have you got any signature work in Vietnam?
I have been living and working in Asia for over 10 years. I joined B+H earlier this year as Asia Design Director for Planning and Landscape and currently oversee a wide range of exciting projects across Vietnam as well as in China, Hong Kong and other regional locations.
Our B+H Vietnam Studio, established in 2010, lies in the heart of vibrant Ho Chi Minh City. We have a multi-generational team of over 60 team members today with talented Landscape Architects, Urban Planners, Architects and Interior Designers collaborating under one roof.
Vietnam is an incredibly dynamic country that is growing very quickly. Our work reflects this and covers a broad range of project typologies at a wide range of scales and settings. Recent work that we are most proud of has been focused on the hospitality sector where we have been helping our clients to develop unique new destinations across many different locations. These projects include Pullman Hotel & Resort in Phu Quoc, Hilton Halong Bay Hotel and Condotel, MGallery Cat Ba Resort in Haiphong, Marriott Resort & Spa in Hoi An and Violet Valley Resort in Phu Quoc.
What sets our projects apart is we customize our approach for each development to create a unique design that connects to an operator's brand and translates it into memorable guest experiences that are strongly grounded in the local culture and ecology of the site and surroundings.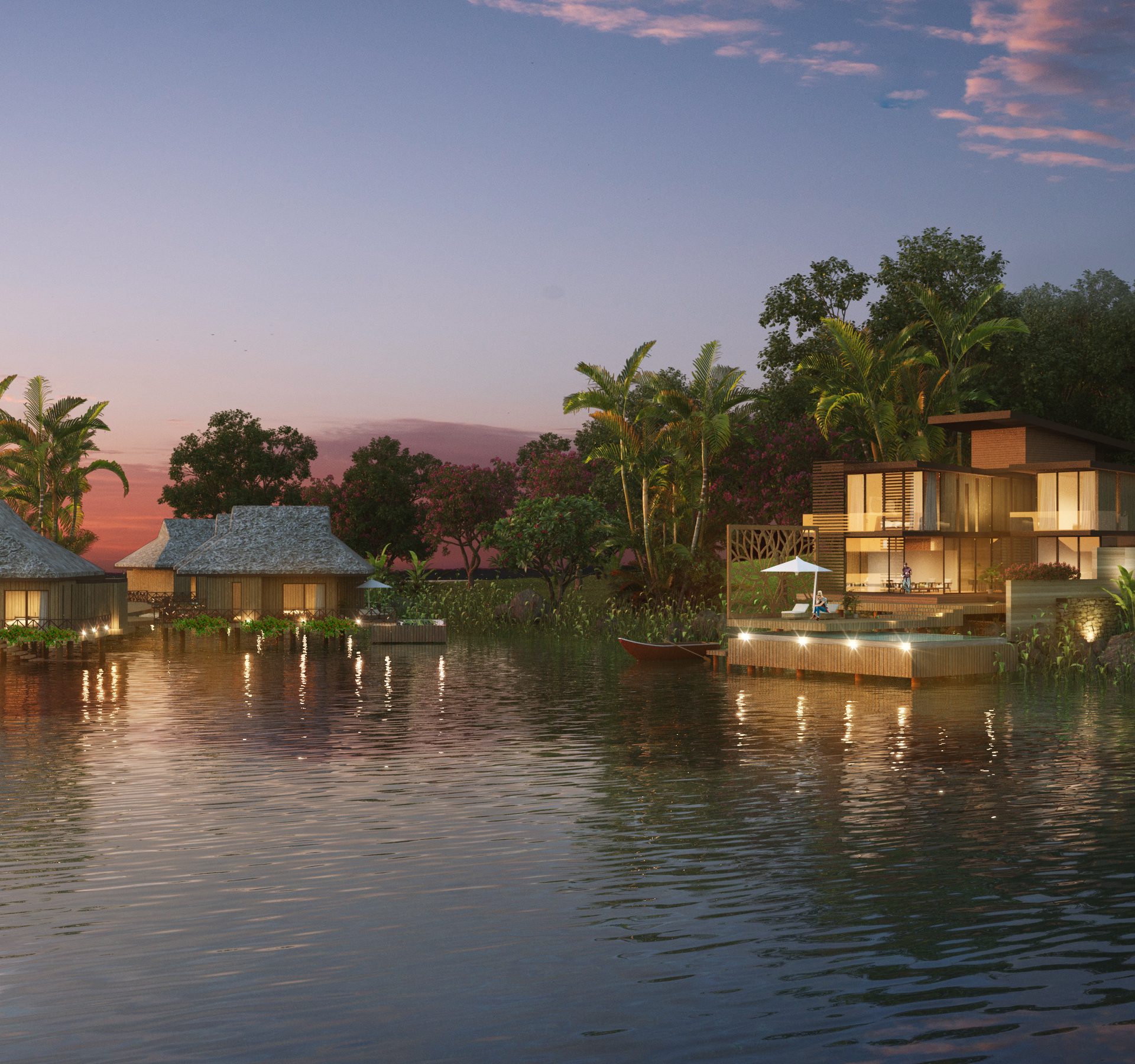 With your 17 years of experience in design consulting services worldwide, can you share us the weakest points of the landscape master-planning and designing in Vietnam hospitality sector and tourism industry in general?
Vietnam, like the rest of Asia, is increasingly feeling the effects of shifts in weather and of climate change. One example of this is the increase in the frequency and severity of storms we are seeing in coastal locations across the region where low-lying land, large population bases and high development densities creates a situation where the impact and costs of these storms have a major effect on people's livelihoods, guest experiences and safety and the financial costs
for hospitality developers and operators.
While many cities around the world are putting strategies into place to ensure they are protected against the effects of
climate change, in our experience, hospitality developments have yet to address this critical issue in a meaningful way. Planning and Landscape architecture are critical tools in helping to ensure that resort developments, particularly those along the coast, are resilient and can withstand the effects of climate change while also providing the unique amenities and experiences that guests, operators and developers expect.
Unfortunately, Vietnam has not yet fully capitalised on the powerful role that integrated planning and landscape design solutions can provide in addressing these issues. Given the rapid growth of the hospitality sector and the growing threats posed by climate change, this is something that we are working actively to help change.
What more does Vietnam need to do in this sector and what are the advantages and disadvantages faced here?
Given its varied and largely undeveloped coastline, beautiful mountains and serene forests, Vietnam is uniquely positioned to take advantage of the growing global eco-tourism sector. While this is evident to anyone who has spent time in the country, it is also clear that very few existing developments have taken full advantage of this due, in large part, to the lack of a strong environmental regulatory framework for the growth that is taking place.
Creating the right structure for the future growth of the eco-tourism sector in Vietnam will require a coordinated effort from a number of different groups including designers, developers, operators and government. As designers, we are
focused on working with these diverse groups to define and implement master plans that help guide growth within specific locations in a more sustainable and coordinated manner. At a more detailed and site-specific level, we also work closely with our developer and operator partners to design resorts that create the type of eco-luxury experiences that meet guest and international expectations while at the same time addressing the key challenges that Vietnam faces in terms of climate change and resilience.
What are your landscape design strategies for eco-luxury hotels and resorts?
At B+H, we collaborate very closely with our developer partners and global hotel brands and operators to create
truly memorable destinations that marry the unique requirements and expectations of guests with a forward looking and sustainable design approach which ensures that each site is resilient and carefully integrated with the local culture and ecology within which it is situated.
Our approach to an eco-resort project is to complement its context without overwhelming it. We blend planning, architecture, and landscape elements with qualities of the local land, culture, climate, and site orientation. The result is the creation of destinations that are unique, inspiring, and contextual, establishing positive connections between people and their surroundings for destinations that guests remember, dream about, and recommend to their family and friends.
B+H is also an integrated design and consulting firm that offers worldclass planning, architecture, landscape, and interior expertise to create complete solutions. Offering these services together creates valuable synergies and efficiencies. Every design challenge requires a unique solution and our integrated design approach allows us to hone in on distinctive points of differentiation for every development and every client in every location.
Often chemicals and insecticides are used to manage landscaped environments, have you any suggestion to make resort landscapes more green?
In the past, hotel and resort developments have relied heavily on imported or invasive non-native plant species to provide what was thought of as a 'lush' or 'tropical' character for guests. This approach creates a host of problems including the need for environmentally degrading fertilizers, insecticides, higher maintenance costs, and water intensive irrigation systems.
While one solution to this is to focus on using eco-friendly products we see this as only solving part of the problem. A more holistic solution, and the approach that we take on all our projects, is to focus on using local and native plant species. This largely eliminates the need for fertilizers and drastically cuts down on the requirements for irrigation as plants are attuned to seasonal variations in rainfall and reduces maintenance requirements. Perhaps most importantly though, the use of a local plant helps to ensure the property is a part of the local ecological system rather than something distinct from it.
The end result is a resort that supports and enhances the local environment rather than detracting from it and provides a unique and location specific identity which is exactly what guests today expect from eco-luxury resort developments.