Legible Sustainability
Exploring the 'feeling' of sustainability
By: Holly Jordan
As an architect and engineer, I often ask myself what sustainability really means within our professions, and most importantly, what it means to the people who will inhabit our buildings and spaces. Generally, when we talk about sustainability, we're referring to economic, environmental, and social pillars. The promise of sustainability is most potent when it relates to aspects of all three. The biggest challenge we face is marrying lasting green design with high-performance principles to benefit our communities and cities in our current economic environment.
I recently attended a Net Zero Building roundtable discussion hosted by the CaGBC Greater Toronto Chapter. The discussion brought together various experts with diverse perspectives to further advance CaBGC's Zero Carbon Building Standard. We talked about setting thresholds, renewable energy sources, government resources, education, training and more of the like. Having been a part of the green design community for nearly 20 years, I've seen a lot of change – and for the better! Low-hanging fruit, as they say, such as specifying low- or no-VOC paints and adhesives or on-site construction waste recycling, have become standard practice. Achieving LEED certification has become standard practice, whereas now we're talking about LEED+ [WELL, Passive House, Fitwell, SITES, etc.).
I've been fortunate enough to be part of teams delivering these exceptional sustainability-minded projects. For instance, we are currently collaborating on Humber College's Nx Building Deep Energy Retrofit, on track for Passive House retrofit certification, making it one of the most energy efficient buildings in Canada.  Likewise, the Mohawk College's Joyce Centre for Partnership and Innovation (JCPI) a joint venture with McCallum Sather Architects, is Canada's largest and Hamilton's first, net zero building, which opened its doors in September 2018.
With projects like these that raise the bar on sustainability standards, the feeling or essence of sustainability becomes an intrinsic component of a building's identity, but what do we mean by an identity rooted in the feeling of sustainability?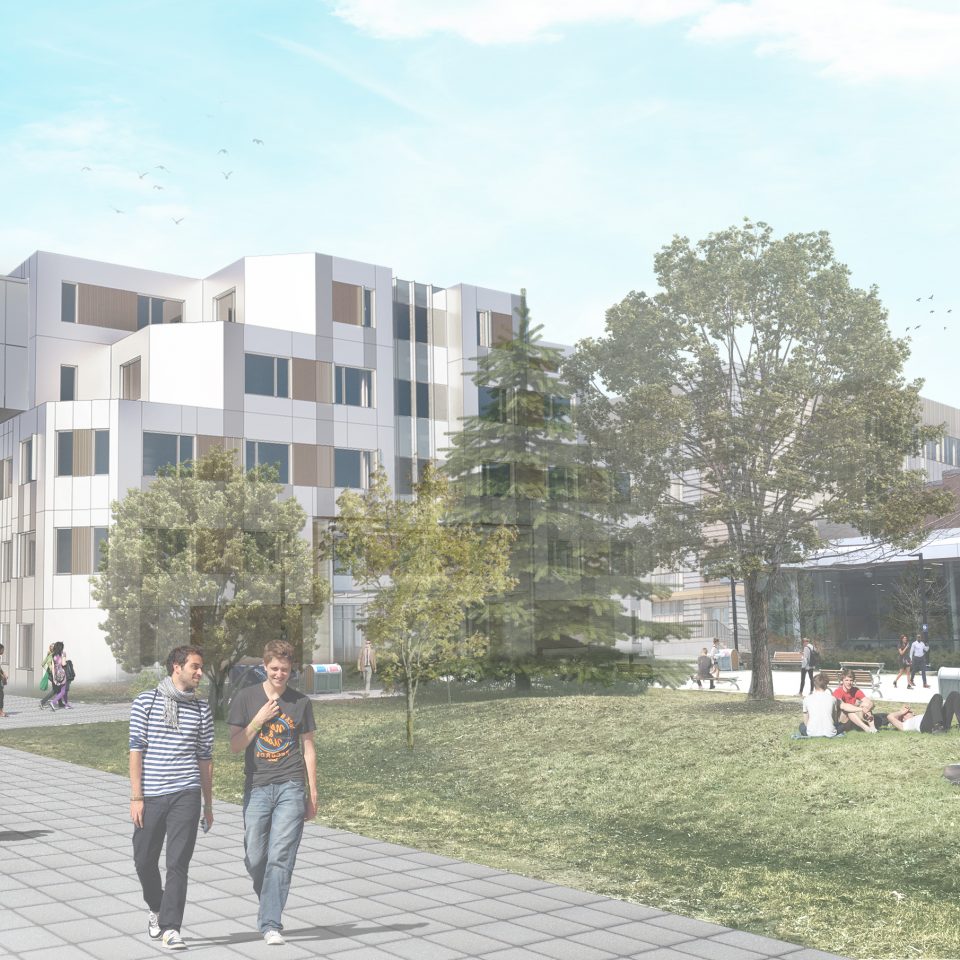 The USGBC recently released a research report as part of an ongoing series to better understand how the public feels about sustainability, green buildings and the environment and it raises some interesting questions. Is there a better way to tell the story of green and sustainable buildings that contribute to our health and live as entities in the fight against climate change? After all, the most ambitious sustainability characteristics of a building are often concealed in high-efficiency mechanical systems, embedded in the many components of the building envelope, or hidden below the soil or on a roof, away from view. When we talk about the 'feeling' of sustainability, we're referring to the tangible outcomes of these embedded characteristics – the experience of, and human connection to, sustainable design principles.
As we continue to hone the ways in which we integrate green and sustainable qualities in our buildings, we need to not only have superior products and systems in place, but also create an awareness of, and mindset of responsibility to, what sustainability represents in our built spaces. This is where visual cues can influence or guide behaviour pertaining to a building's use and operations. These cues can include biophilic elements like plants or vegetation; the use of natural materials as finishes like wood; maximized daylighting in interior spaces; or the display of unique systems like PV arrays. The presence of these elements creates an expectation of a building and can influence how its operations are set up and how the users feel within in.
Mohawk's JCPI demonstrates these characteristics flawlessly. Its heroic use of PV array sails and umbrellas proudly attests to its position on sustainability, while its naturally lit communal interior spaces – more subtle in their messaging – also contribute to the feeling of a sense of well-being for inhabitants. As the building completes its first year of operation, allowing operators to tweak systems to achieve optimal performance, it readies itself for student-led operation. Currently, students are met with a limited power supply, forcing them to think twice about the energy they consume as they navigate their school day. This consistent reflection on their personal power usage will be further amplified when students are actively engaging with the collective daily operations of the building.
Building Nx, by contrast, is more understated in its sustainability position. Its PV array won't be as prevalent, but the newly established occupant comfort is a testament to its thickened, highly insulated exterior wall system. Unlike most campus buildings, all occupied spaces include operable windows, allowing occupants greater direct control of their spaces and allowing them to invite the great outdoors, inside. The sight of students sunning themselves on the lawn and the sound of birds passing by outside change the feeling of the working spaces immediately. The people that have experienced the building's evolution from a drafty, glare-filled space to a highly comfortable, modernized workspace will no doubt have the greatest appreciation for this building's transformation.
As an advocate for sustainability, I greatly value intense strategies for efficiency, but I also recognize the need for ongoing awareness campaigns in the spaces we occupy. Designing buildings that are active spokespeople is an important part of the path towards greater environmental stewardship in our cities and communities. So, fellow design teams and clients dedicated to contributing to a healthier planet – let your green flag fly high!