Building A Better Future Together
Sustainable Design
This concept created in partnership with Expomobilia, GSM Project, Hidi Group, MBII, Multiplex, and RBG.
Part of a legacy dating back to 1851, when the first World Expo was introduced in Hyde Park, London; Expo 2020 will take place in Dubai. Set to welcome 192 participating countries, and millions of visitors from across the globe, Expo 2020 revolves around exploring how we can build a better future together within three main themes: opportunity, mobility and sustainability. Expo 2020 runs over 173 days and features daily entertainment, country pavilions, live shows and restaurants. Including narratives from every corner of the globe, we were invited to propose a design for its Canadian pavilion.
Canada's strength lies in the diversity of its land combined with the collective knowledge, imagination and creativity of its multicultural people. Our concept for the Canadian Pavilion is a composition of all Canada has to offer the world today and the visionary spirit that will continue to propel the country boldly into the future. Aligning with the sustainability theme, we saw a unique opportunity to create a pavilion for Canada that "walks the talk" through not only an interactive thematic experience but by making a minimal environmental impact using primarily recycled and reusable materials.
"Our concept invites the Expo's 25 million anticipated visitors to become participants in the creation of real-time art through the power of AI, inspired by the beauty of Canada's natural landscapes and clear night skies. Rather than focus on a single architectural statement, we opted for a design narrative that uses the site's overall environment to create a journey along a path through a metaphorical woodland." David Stavros, Senior Design Principal.
Our concept invites the Expo's 25 million anticipated visitors to become participants in the creation of real-time art through the power of AI, inspired by the beauty of Canada's natural landscapes and clear night skies.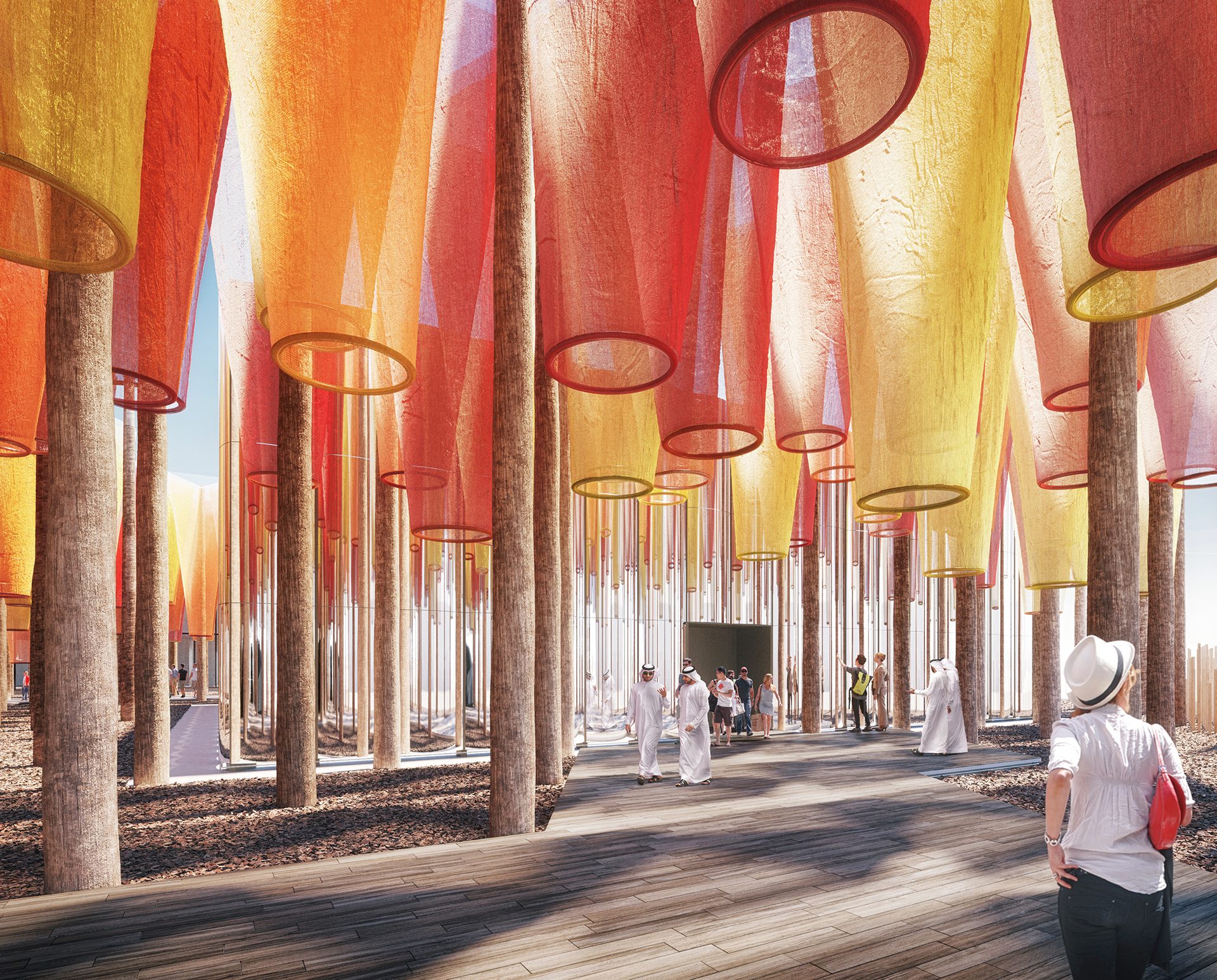 "When most people think of trade with Canada, they think of our natural resources. And yes, we are blessed with these great natural resources, but we have so much more to offer the world." – Jean Charest, in a speech to the Canadian Arab Business Council Annual Dinner on April 15, 2019.
Representing the trees and four seasons of a Canadian forest, visitors journey through the experience under the sheltered canopy of an abstracted forest designed to minimize the pavilion's environmental impact, including the eventual dismantling, recycling and repurposing of materials. The abstracted woodland is formed from a staggered grid of recycled Canadian utility poles connected by steel cables at their tips, forming a triangular framework from which fabric is draped, representing foliage. The fabric is given shape through circular counterweights that shelter the space and create a calming environment reminiscent of "forest bathing", brought to life in part by team member Felipe Zumaeta and fueled by his deep passion for fusing technology with physical space to create unique experiences.
Beginning with the sheltered welcome plaza, visitors are led down recycled wood pathways through the forest that take them from one discovery to the next, featuring a series of sculptural pods to inform and engage. Clad in recycled materials, each thematic pod plays a role in telling an interactive story that speaks to Canada's land, natural resources, and people.
A Story of Diversity, Inclusion & Innovation
 A journey through the pavilion provides visitors with the opportunity to participate in, rather than simply observe, the story as it unfolds. Guests first step into the forest canopy, where they are engulfed by the striking colours of Canadian fall foliage and reminded of the natural beauty Canada possesses. As they continue, they find the sculpted pods used to create interactive art. The simple act of moving their bodies creates a unique constellation, nebula, or aurora borealis depending on the pod. This serves as a symbol of how Canada's strength comes from the contributions of its people and their unique abilities, backgrounds, and experiences.
The next act of the story begins when visitors enter The Dome, which is enclosed in a metallic exterior that reflects the surrounding foliage. Upon entering the dome, visitors recognize the imagery they generated in the pods in the forest. As they move around the room, the art they have created together travels and dances with them, creating a dynamic visual tapestry. They are encouraged to move in different patterns, and to experience how a symbiotic group choreography changes and enhances the art. Not only is this a distinct showcase of Canada as a leader in AI, machine learning, and innovation, but it also embodies the ethos of the nation's warm embrace of diversity.
Diversity is a distinct trait of Canadian culture that most stood out to team member Filip Piwowarczyk, during the two years he lived in Canada working with B+H. He saw the way in which people cherished their heritage in Canada and experienced the welcoming feeling that creates for people who are new to the country. Though he now lives in Poland, Filip continues to contribute to projects at B+H across the globe, as that appreciation for diversity of perspective is as ingrained in our firm as it is in Canadian culture.
As visitors leave the dome and move into the final act of the story, they are provided a moment's breath in a clearing. Here, they are invited to move in a circular "orbit" around a luminous central satellite-like structure. As they move, they once again participate in a collectively-generated piece of art – this time, a cosmic symphony. Their positions set off a sequence of sounds accompanied by the changing lights of the surrounding foliage. The pulsating central light beam reaches out to the stars, signalling the leadership Canada has and continues to provide in the fields of aerospace and space exploration. It's also a symbol of the common link humanity shares – the planet we reside upon, and our collective responsibility to look after it.
With the journey complete, visitors are left with a distinct sense of what Canada has to offer and what it represents as a nation. Whether it is through the sustainable materials, the interactive art pieces, or the way in which the parts combine to make a complete picture, the Canadian pavilion represents all that the country is. Drawing continued strength from its people and their vast array of experiences and backgrounds, Canada is a place of sustainability, inclusion, and innovation. Our design for the Canadian Pavilion invites people across the world to come and experience it for themselves.