Future-​Fluid Design
Lasting solutions are holistic solutions
Featuring: Bryan Croeni + Luca Visentin + Stephanie Panyan from the B+H SickKids PSC design team
It was almost a year ago when B+H announced its partnership with The Hospital for Sick Children (SickKids) as the Design Architect and Prime Consultant for the hospital's new Patient Support Centre (PSC). The PSC will house education, simulation and core administration services to support the needs of SickKids healthcare providers, foster collaboration and accelerate innovation. It is the first phase of Project Horizon, the SickKids campus redevelopment plan which aims to build an inspired and reimagined hospital of the future – no small feat in a world defined by unpredictable and rapid change.
What do we mean when we say we're building for the future? How do we account for tomorrow's unknowable landscape in the spaces and buildings we design today? The design process for the SickKids PSC demonstrates what's possible when we explore and respond to the most important component of lasting design – people. Before we put pen to paper, we took the time to generate the kind of qualitative insight needed to imagine a future together with SickKids – a future that speaks to the organization's preferred culture.
Designing from the outside, in and the inside, out
B+H's design team for the SickKids PSC is composed of a diverse group of perspectives, expertise and skills including services representing Advance Strategy (pre-design consultation), architecture, and corporate workplace and landscape design. A fully integrated team, it's impossible to say that any single discipline owns the trajectory of the process since the nuances of organizational culture, architecture, and interiors have already, and will continue to, inform each other throughout the exploration and design phases.
Fundamental to our Advance Strategy offering, staff from all levels across SickKids representing various departments were engaged in a collaborative visioning and planning process through facilitated workshops and tailored tools to generate insight and establish a shared vision for project success. The resulting roadmap is a living document with a set of guiding principles by which to inform decision-making and optimize design in support of capital investment, functional planning and sustainability goals. We constantly revisit it with SickKids to understand how we can continue to help the hospital realize their preferred culture – both through the physical environment needed to support current company processes and policies, and to explore how their behaviours and habits can shift to invite new ways of thinking.
The end goal of this type of integrated approach is to understand a design solution from all angles and realize a future-fluid physical manifestation of an organization's internal culture that can support them now and take them confidently into the future. By blending the needs and expectations of their existing talent with those of the incoming workforce, we were able to explore what future-fluid design means specifically for SickKids.
"While there's no arguing that technology is shaping the future of work, it's impossible to predict exactly where it will go and what kinds of software and hardware an organization will need. What we want to do is get our clients dreaming about the possibilities – to imagine what their future could be from a human perspective – and build flexible environments and infrastructure to support people." Stephanie Panyan, Interior Design Director, Toronto Studio.
The PSC building offers the opportunity to build a home designed primarily for a single organization. It stands as a physical manifestation of SickKids' global reputation; and through a strong architectural expression that activates and engages with the public realm, it connects the organization to the community. Through its connections within the campus – linking the hospital on University Avenue directly to the Peter Gilgan Centre for Research and Learning (PGCRL) on Bay Street – the PSC building will establish a critical link between clinical care, learning and discovery across the campus.
What we want to do is get our clients dreaming about the possibilities – to imagine what their future could be from a human perspective – and build flexible environments and infrastructure to support people
Vertical cities and organizational neighbourhoods
The PSC tower will be very much like a vertical city, home to multiple departments representing the many facets of SickKids. It requires a design solution that addresses the distinct needs of diverse groups of talent while allowing for cross-collaboration and the ability to influence each other and innovate together. Considering the nature of their work and how a new space could transform their culture, we approached each department as its own neighbourhood within the new SickKids vertical city.
"When we apply the metaphor of a city to an organization's workplace, we can address the needs of individual teams of talent as we would distinct neighbourhoods – each with their own character, flavour and way of doing things. And much like neighbourhoods, each department is given the space to organically evolve as it sees fit to serve its needs." Bryan Croeni, Director, B+H Advance Strategy, Principal.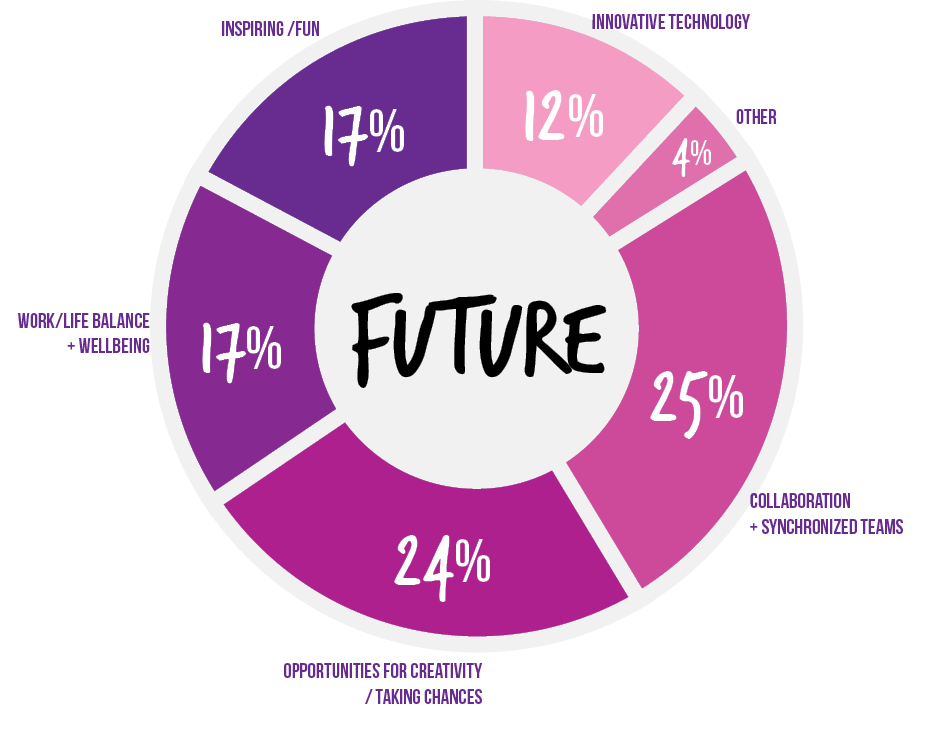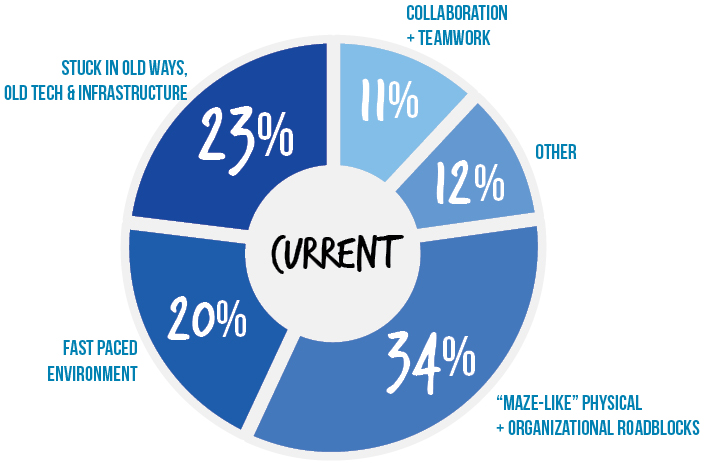 The first step in understanding the kinds of "neighbourhoods" a workspace requires is understanding how people work in an organization. Does an organization's talent engage in mostly solo work? Do they break out in teams within departments or cross-departmentally to work through solutions collaboratively? What kinds of meeting spaces will best serve the way they work together?
Ideally, a workspace will account for both "me" and "we" spaces through individual and group meeting areas. With the right balance of open to private spaces depending on each clients' needs and a plan for the kind of infrastructure that will allow for flexile adaptation as technology changes, we can begin to uncover future-fluid design solutions.
"The more modularity and flexibility we can build in, the better. When we look at a building's core, we want to create large, uninterrupted floorplates wherever possible. Large, open spaces with long span structural systems and fewer columns allow users to change when technology and work styles change." Luca Visentin, Design/Project Architect, Principal.
Predicting the future is impossible but when we work closely with our clients to understand their distinctive needs and explore future possibilities, we can create fluid solutions that can evolve as our clients evolve.