Using Biodata to Solve Wicked Problems
Creating living stories for future resiliency
B+H in Partnership with Biomimicry Frontiers
Featuring: Stéphane Lasserre and Jamie Miller (Biomimicry Frontiers)
We live in a hyper connected world that is constantly changing, shaped by ever increasing complexity. Now, more than ever before in history, every aspect of our lives is affected by global macro drivers of change, where dynamic and seemingly unrelated trends converge to create change on every level from economic and political structures, to social aspects and the environment. Unless we respond proactively, these global drivers will force us to re-evaluate how we design our cities and communities. They're also referred to as wicked problems.
Financial crises, hunger, income disparity, growing inequality, and the climate crisis are all examples of global wicked problems – massive issues that are so complex and deep-rooted that they're difficult to grasp and tackle. They require new ways of thinking and the absolution of outdated mental models. While technology has often been considered the ultimate solution to many of today's problems, technology alone cannot solve a wicked problem. Complex problems require solutions that tackle issues from many aspects and are best solved through collaboration and a multi-disciplinary perspective.
Complex problems require multifaceted solutions
B+H is a global multi-disciplinary design and consulting firm, with specialists in services spanning from portfolio optimization and development solutions, to architecture and interior design. We're navigators, storytellers, placemakers and curious designers. We believe our diversity is our strength and that it's our responsibility to bring the right people to the table to explore solutions for our clients. B+H was recently commissioned to work on a habitat solution for a residence in Begaluru and before we set pen to paper to design, we worked closely with Biomimicry Frontiers to better prepare ourselves to understand how to create a robust and resilient solution. Resilient solutions are contextual solutions; solutions that transform local challenges into opportunities for change.
The latest census data recorded the city's population at 8.5 million as of 2011. The Revised Master Plan-2031 was published in 2017 by the Bangalore Development Authority and projected that by 2031, the city's population will be around 20.3 million – beyond the current population of Mumbai and Delhi. Bengaluru has emerged as the 'Silicon Valley of India' and as such, has experienced massive economic growth from the IT and e-commerce sectors, resulting in accelerated urbanization.
Coupled with insufficient infrastructure (water, waste, transportation and energy), rapid growth in the region has resulted in escalating social inequality, mass displacement and dispossession, and proliferation of slum settlements. Tensions between poor and working-class neighbourhoods have driven new and expanding businesses to other centres in India. To add to the complexity, environmental degradation has resulted in polluted groundwater and dangerous levels of toxic particulate matter in the air. While this combination of factors is distinct to Bengaluru, the overarching issues are not.
How do we uncover resilient design solutions that are both contextual and apply at a global level to begin to unravel even the most complex worldwide wicked problems?
Defining design principles from nature to incite change
"The first step to inviting change is to apply new ways of thinking because we can't solve problems from the same mindset within which they were created. Biomimicry Frontiers identified three principles from nature to apply to the wicked problems of Bengaluru to create a living story for this home: local attunement, mutualism and adaptability," Jamie Miller. Drawn from current challenges and the history and context of Bengaluru, these represented specific points for inciting change – to inspire a small-scale and safe transformation of how homes are thought of and designed, ultimately resulting in a resilient approach to habitat design. Within each of these categories, together we used biodata (both contextual and globally relevant) to begin to explore a resilient design solution.
Our design exploration considered multiple scales to uncover opportunities, resources and potential strategies for designing a home in this specific location based on biomimetic principles. At the macro scale, we considered free energy and opportunities from water, solar and wind biodata. At the meso scale, we assessed the "patch" of the habitat, considering local water sources, social capital and potential ways the home could give back to the socio-ecological landscape. At the micro scale, we addressed home orientation, adjacent infrastructure, and potential strategies to improve the adaptive capacity of both the form and process of design. The focus on these various scales allowed us to collect biodata that was contextually relevant and spoke to the needs of people in this ecosystem.
We began exploring design possibilities using a modular grid structure made from steel voxels (3D building blocks) as a foundation. This grid creates a stack ventilation effect for a form of passive ventilation. It also allows for local rain harvesting through simple mechanisms to harness all rainwater falling into the plot and channels it for different purposes. The first model (Figure A) explores what's possible when we maximize potential by using all parts of the grid. When we begin to play with the layout of the grid (Figure B), we can begin to see a more organic form emerging. Finally, Figure C demonstrates possibilities when we approach the modular design as a collective of responsive blocks, or smart voxels, whereby clusters of voxels can be used to delineate various types of spaces and forms within the design.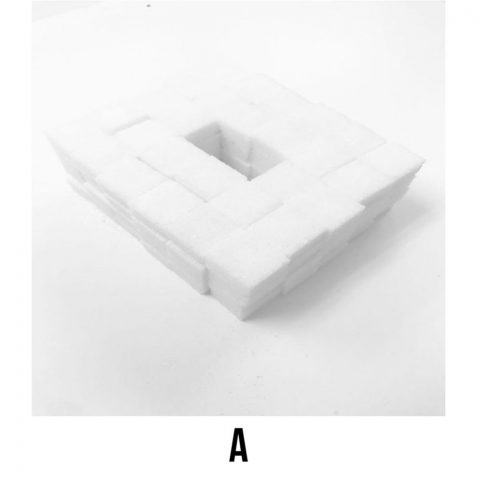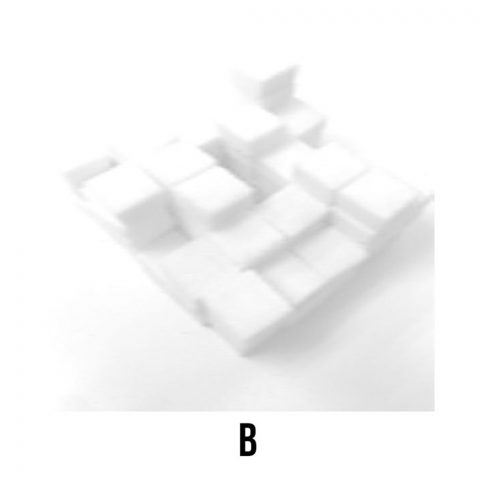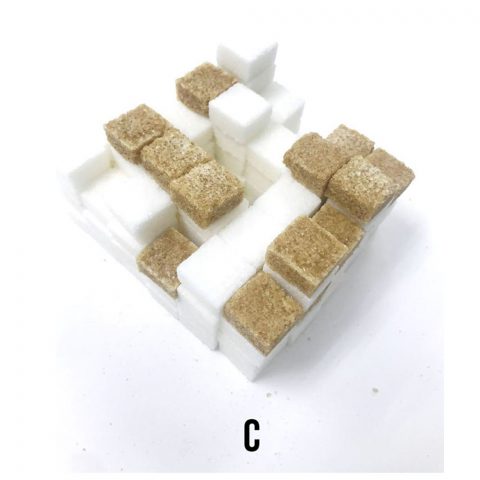 The smart voxel design allowed us to look at the grid system as a collection of dynamic components made of the home's frame, shell and greenery. The shell of the home is composed of roof and floor slabs, glazing and solid walls, light boxes, aluminum louvres, and the core of the home – a small-scale mechanical and water system. Greenery includes planter boxes for small shrubbery, plantings and trees, and green walls that connect the roof to the ground. The home is also climatically designed to make it less dependent on mechanical resources by incorporating courtyards and allowing open ventilation.
The resulting design uses various nature-inspired principles to optimize living spaces by creating a comfortable interior environment, including hanging gardens; passive cooling passageways, ponds and trees; pivot glass panel openings; adjustable louvre roofing and window ventilation; and indirect light for bedrooms. Green walls contribute to interior comfort while also slowing down storm surges by absorbing and retaining water. The façade system is composed of self-shading bricks, vertical fins, mirrored and zinc materials, translucent walls, insulation built from fungi, and pollution absorbing modules that are activated by ambient daylight.
Bengaluru's most prolific resource is its people
The Bengaluru living story establishes a framework to understand the unique potential available with this exploration in biomimicry habitat design. Drawing from nature-inspired principles to shake up our way of thinking, we were able to look at how we could build a resilient habitat solution that not only spoke to the context of the surrounding environment, but also one that spoke to the people of Bengaluru. Starting with early settlers who modified their environments to capture water to create reservoirs and support a resilient  agrarian society, to today, where entrepreneurship, IT and job creation have become synonymous with the 'Silicon Valley of India', the people of the area have found ways to carve out niches and creatively support their population. By engaging in a new way of thinking and approaching design, this innovative culture can harness yet another mental model to continue to explore what it means to design in a world that requires ever-increasing resilient solutions.