Collaborating for Success
Bee Lan on Columbia China's Relationship with B+H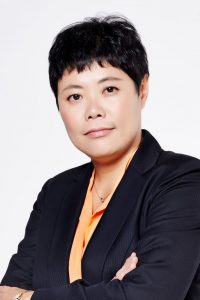 PROFILE:
Ms. Bee Lan Tan has been the President and Group CEO of Columbia China since 2014. She has more than 20 years of managerial experience in the healthcare industry. Prior to joining Columbia China, she was involved in hospital and clinic development and operations at Parkway Health in China for more than 10 years.
Upon the topping out of Columbia China's Jiaxing Hospital, in partnership with B+H, Bee Lan shared with us her successes and key lessons learned along the way in growing Columbia's footprint in the region and the benefits of collaboration with an international design firm like B+H to create world-class facilities in China.
Q1: Columbia China has invested in multiple hospitals, clinics and senior living facilities across China in the past few years, what's Columbia China's criteria when it comes to selecting design partners?
In Columbia China, we set the bar high when selecting the design firm to work with. Before the project starts, I usually ask myself several questions: how much do we want to invest? What's the positioning of the healthcare facility? What kind of design could differentiate our brand in the market?
There are many prestigious design firms over the world. We first look at their general profile, ranking and of course, their track record & level of experience in the healthcare sector. Based on those criteria we then shortlist 5 firms to join the pitch for our projects.
For the design pitch, we expect the design firms to do some research to obtain a deep understanding of our vision and objectives. If they don't understand this, it won't be a fruitful working relationship. Design capability also matters. We want the design firm to provide a bold yet feasible solution that is rooted in evidence, deep insight and thorough processes.
In addition, the firm's level of account service, good partnerships with LDI, commitment to delivery, effective communication, and our general comfort level with them shall also be taken into consideration. As Columbia China invests and operates multiple healthcare facilities at the same time and in China, efficiency and speed are always priorities, having a firm who can help keep the process smooth is highly beneficial.
Last but not least, the ideal firm we are looking for must have offices in the city where Columbia China operates. Due to our tight timelines and multiple projects, fast turnaround and real-time communication are essential. Understanding the specific needs and challenges of the region also helps to save us time and to create a finished product that will truly meet the needs of the area we are working to serve.
Q2: Columbia China has just signed the second collaboration framework agreement with B+H as a result of a successful collaboration over the last 3 years. Could you please share with us the context how Columbia China works with B+H? What made you want to sign the second agreement with B+H?
B+H has been a great partner along the way, with its rich experience in healthcare sector, local presence in the region as well as the forward-thinking design approach. With 27+ years' experience in China, B+H is able to provide us integrated services including architecture, medical planning, interior and landscape architecture design, which is critical when we are working on a variety of spaces. From our very first collaboration project, they have been interpreting our vision into tangible results and offer us a bigger return on investment. The holistic design approach has helped Columbia China build our portfolios in China through high performance design and innovation.
B+H's vision aligns with Columbia China's, which is a vital ingredient to any successful working relationship. Columbia China is dedicated to offering patients high quality, personalized care in a clean, modern environment with access to highly trained doctors & advanced medical technologies. As leading experts in healthcare design, B+H delivers strategic consulting and high value design solutions that shape better spaces, communities, and economies. The partnership is a win-win relationship that bolsters Columbia China's capacity, reinforces B+H's strategic growth plan, and ensures patients receive the care and facilities they require.
Columbia China is building 7 healthcare facilities in China at the same time and the pace is only increasing.  We have a tight schedule and want to make sure the standardized design for each space follows our branding guideline and in consistent with our strategy and visions. On tight timelines, it is crucial to have a design partner you can trust to keep up and still execute flawlessly. We plan to open 2-3 projects in Yangtze Delta area this year, and without B+H we could never meet the deadline. The B+H team is very familiar with our visions, values, strategy and the way we operate, which is why we chose to have an exclusive collaboration with them.  This continued partnership allows us to further leverage the lessons learned in every previous project to ensure the improved delivery of future projects. This partnership also works to guarantee knowledge transfer from one project to the next through consistent and experienced leadership, project staff and processes. When no knowledge is lost, projects are able to be completed more quickly with fewer inefficiencies and to the highest possible design standard.
In addition, with more than 25 years of experience in China, B+H is equipped with a comprehensive understanding of local culture, aesthetics, and construction methods. This understanding is incredibly important to our process. They have long-term relationships with local sub-consultants, LDIs, and vendors with proven and substantial track records. All of which saves us a lot of time and energy for coordination and allows the projects to proceed smoothly.
Last but not least, B+H has developed a series of design/medical planning specifications, solely customized for Columbia China's facilities, based on Columbia China Standards. We also have a shared data platform for the documentation of the design progress and site issue reporting. Together, all of this helps us streamline and improve our current process and better manage all the projects.
Finding a design firm who shares your values and vision, is experienced in a variety of disciplines as well as the local region, and is willing to learn and grow with your brand is such an important relationship to establish. Our collaboration with B+H provides us with all of this and more, which has in turn allowed Columbia China to meet its goals and grow its presence.