Repositioning Toronto's Aging Commercial Towers
Challenges and opportunities in class B to class A conversions
B+H and Menkes Developments Inc. (Menkes) recently invited the industry to step inside the historic art-deco Canada Permanent Trust Building (now called The Permanent) at Bay and Adelaide streets for an expert-led panel discussion about the challenges and opportunities in repositioning aging commercial towers in the downtown core, including the redevelopment plans for The Permanent. Hosted in the the former Bankers Hall, with restored coffered ceilings, Italian marble flooring, and the original brass coated bank vault, which provided a captivating backdrop, the event was attended by 100 industry professionals, ranging from commercial brokers, developers, and project and asset managers.
Menkes and TD Greystone acquired the 300,000 sq. ft. heritage bank building at 320 Bay Street in the financial district earlier this year. They are currently restoring and renovating the architectural gem to create new creative office environments to accommodate Toronto's growing tech sector and other creative industries downtown. B+H has just announced its lease of approx. 23,000 sq. ft. of the renovated space and, as Project Design Architect, will provide design direction for key public spaces in the building including an updated lobby façade entrance which will link the 320 Bay and 304 entryways into one public lobby.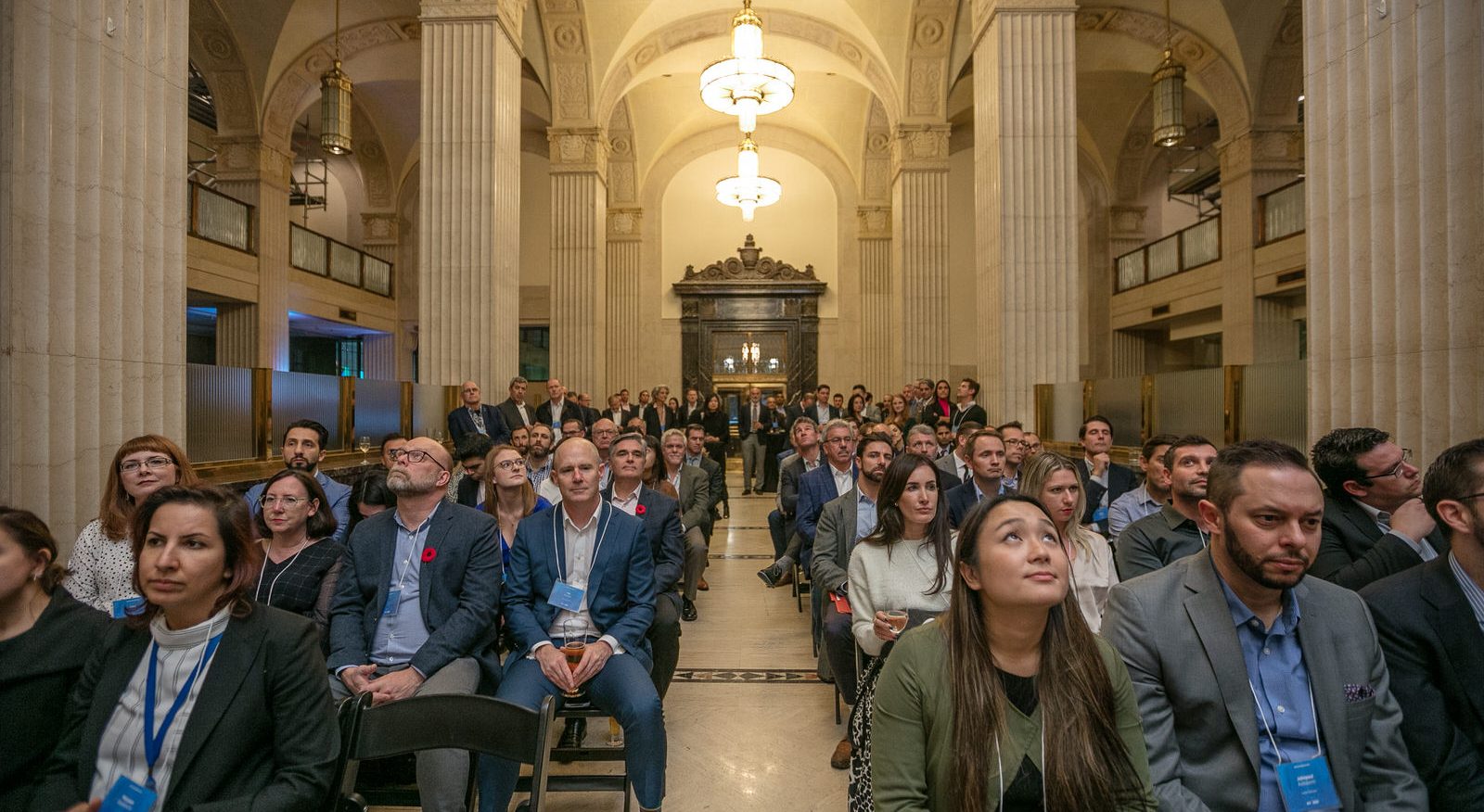 Moderated by architecture, urbanism and design editor and writer, Catherine Osborne, panelists included Peter Menkes: President of Commercial and Industrial at Menkes, Peter Heys, Principal, Interior Design at B+H Architects, David Moretti, SVP and Sales Representative at Colliers, and Jody Becker Chief Strategy Officer and SVP Services at EllisDon.
The conversation kicked-off with remarks about Toronto's incredibly low office vacancy in the downtown core and what is driving the need to upgrade existing, older buildings more quickly.
Moretti explained how US expansion of companies in Toronto – the large talent base coming from local universities and policies that favour immigration and diversity for employers – has resulted in a lot of growth in addition to the rapid influx of tech companies and young talent moving downtown. Adding to the demand for more office space downtown, a millennial workforce that is increasingly choosing an urban, live work play lifestyle.
He also explained, while there is no universal definition for Class A, it used to be that if you did not have a PATH connection and expansive curtain wall, you could not be considered a Class A office tower downtown. But that is no longer the case. The panelists universally agreed that Class A office space is now all about the tenant experience and the environment it produces.
"It is about creating a unique experience, whatever that may be," said Heys. "It does not always have to be brick and beam, the look of a heritage building, or the look of a curtain wall – it is about connecting to the client, connecting to their brand, ethos and staff, and creating a unique experience for them."
Heys shared how health and wellness are currently a major focus for his clients, demanding anything that facilitates a healthier lifestyle, such as "spare-no-expense" cafeterias where companies provide employees with healthy meals catered in-house, bicycle parking, on-site showers and outdoor spaces.
For instance, as part of the revitalization plans for 320 Bay, while there is no underground car parking, Menkes is putting in a major underground bicycle parking operation with change rooms and showers that can be accessed by a ramp and stairs from the main lobby. Menkes remarked how the design celebrates the arrival of bicycles right behind the reception desk.
The panel also touched on how conversions from Class B to Class A buildings need to accommodate greater office densities. Today, companies typically operate with 100 sq. ft. of space per person rather than 150 sq. ft. which was the previous norm. That's why factors such as fresh air intake, elevator speed and increased washroom counts are important in any redesign.
When asked about the value proposition of building new versus retrofitting, Menkes acknowledged that, while the firm's portfolio is comprised of both types of projects, a site like 320 Bay street in the heart of the financial district, with this character and size, is a once-in-a-lifetime opportunity. He also went on to explain how retrofits allow for quicker go-to-market strategy and that there is minimal disruption to the public due to construction, especially within a tight site.
"Are these buildings actually becoming more desirable than new builds?" asked Osborne.
Moretti stressed that there is a good demand for heritage buildings in the city and how, 25 years ago, people like the late Paul Oberman and other developers, "found little gems on the edge of the core, and they would restore these beautiful buildings back to their original design – and people loved them. If there is one thing that we learned in this city, it is that people are appreciating architecture more. Tenants love to be in these buildings because of the unique environments they can have," he said.
The panel concluded by discussing other buildings that have great potential for conversions, such as the Dominion Public Building at 1 Front Street and the CIBC building at 55 Yonge Street. There was consensus that the next wave of refurbishment will come from the repositioning of underperforming buildings of the 1960s and 70s vintage.
Watch the full panel discussion below: