The New Integrated Design Data Ecosystem
Harnessing the power of people, tools, and technology to achieve carbon neutrality
Lisa Bate, Global Sustainability Lead at B+H, was invited to be Keynote Speaker at the Opening Plenary of the International Built Environment Week (IBEW) on September 7th, 2021. Speaking to the Plenary Title "Growth Potential in the Net Zero World", Lisa shared her views on harnessing the power of people, tools, and technology to achieve carbon neutrality with her presentation entitled "The New Integrated Design Data Ecosystem".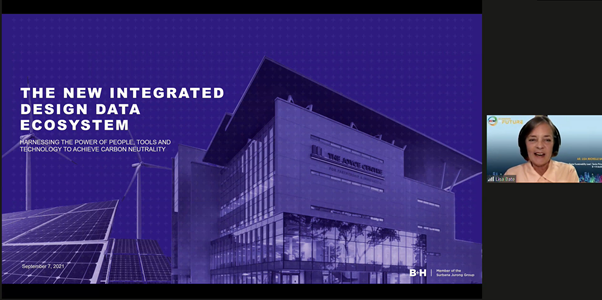 Drawing on B+H's extensive experience in creating developments of Net Zero Carbon (NZC), Lisa urged for greater use and optimisation of design and building material specifications and carbon accounting analysis tools to create informed design outcomes. These include smart modelling technologies that coordinate building materiality data with carbon and other pollutant impacts, façade heat gain and loss mapping tools, and building performance platforms to achieve site- and- building-optimised design outcomes.
B+H has successfully demonstrated our NZC leadership through various projects and annually certified NZC performance operations in North America. In Singapore, similar effort has been manifested on some of the many healthcare projects we have delivered. Collaborating with a team of consultants and local architects, B+H has delivered the Changi General Hospital Integrated Building, achieving a Green Mark Platinum Certification with a Green Plot Ratio of 5, 0% Run-Off through grey water collection, 2,100 tons of CO2 reduced annually and with 4,432,517 kWhr/yr of annual energy savings.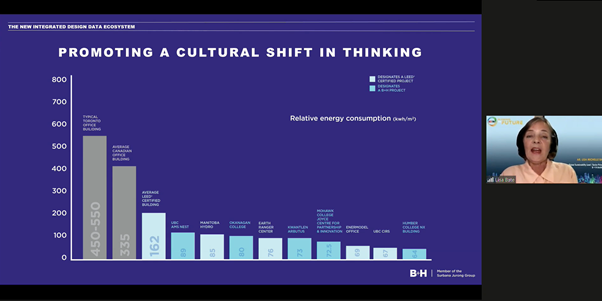 B+H has delivered multiple projects that recorded much lower energy consumption than a typical development of the same building type across North America.
"It takes a designer to know a designer"
Lisa advocates for designers to leverage leading-edge design tools and technologies to facilitate the translation of great design into high-performing solutions that meet advanced sustainability and carbon-neutrality targets. Exploiting the symbiotic relationship between people, technology and design enables us to better connect with the world we live in and also allows us to future-proof what we have built today, for tomorrow.
About IBEW
The International Built Environment Week (IBEW) is organised by BCA International, a wholly owned subsidiary of the Building and Construction Authority, in partnership with Reed Exhibitions Singapore, and supported by 12 Trade Associations and Chambers.  Widely regarded as the most comprehensive event on the built environment in the Asia Pacific, the IBEW is the ideal platform for the global community to converge and share knowledge, exchange experiences and explore business opportunities.
Learn more about Digital IBEW 2021.