Project Photos
Designed in partnership with executive architect Spina O'Rourke + Partners, the new Banyan & Olive development in West Palm Beach, Florida reflects a growing demand for a new type of office typology that meets the needs of tech and finance firms relocating to the area.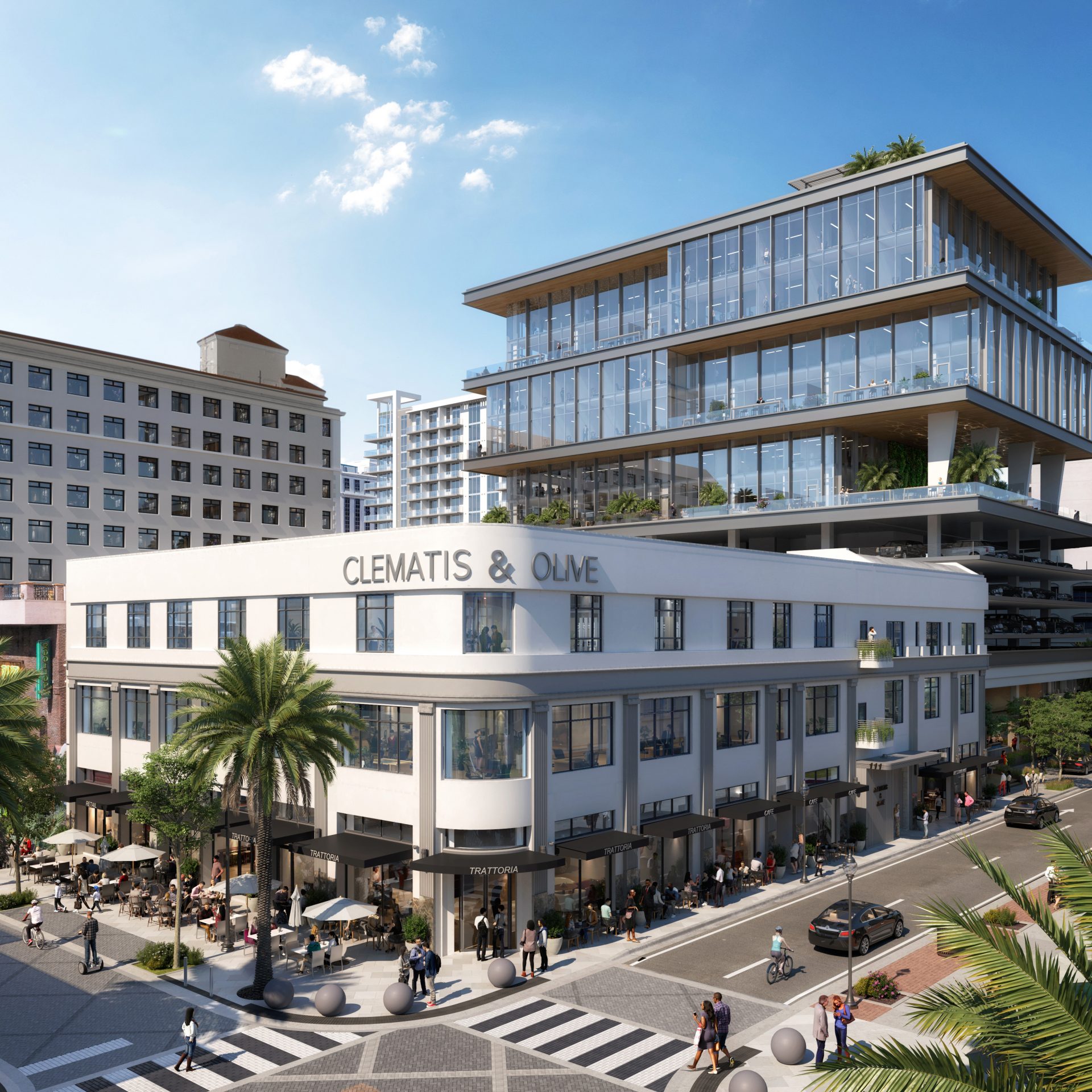 "Over the last two years, West Palm Beach has become an emerging destination for finance and tech, with major players in both sectors relocating to the area. With that growth comes a demand for a new type of mixed-use office space that emphasizes mixed-use spaces, luxury amenities to the public realm and connection to outdoors.

This evolution of the local workforce means a change in vision for the downtown. It's an exciting time to be building in West Palm Beach."  ~ Patrick Fejér, Principal, B+H
The new site will introduce two new buildings downtown as a vertically integrated commercial community, designed and branded to become a destination that attracts a like-minded audience of tenants and end users. The original heritage building on the site, 111 Olive, will be retained, restored, and transformed into a 3-storey mixed-use tower with ground floor retail, a new marquee restaurant at grade that will boast an expansive outdoor patio, and boutique office space on the top two floors. Previously occupied by a department store, it was paramount that the original art modern aesthetic be retained to connect back to the historic fabric of the neighbourhood.
Adjacent to 111 Olive, a vacant parking lot will be transformed into 300 Banyan – a 12-storey bold, geometric glass tower that will house Class A office space with an expansive amenity floor equipped with a state-of-the-art indoor/outdoor gym and private outdoor terraces can be used by tenants year-round. The tower will also include an elevated parking garage above ground floor retail, lobby and food and beverage offerings.
While an emphasis on outdoor workspace was once atypical in the region, new work styles emerging from the pandemic and a migration of major finance and tech firms has prompted a change in perspectives and priorities.
Throughout the project's design development, engagement with the local community and investment in public space was top priority. Connecting 111 Olive and 300 Banyan will be a public walkway that can be activated with a variety of food and beverage and retail pop ups or cultural programming, which will foster a sense of community between both buildings. The development's emphasis on public realm integration reflects the recent revitalization of downtown West Palm Beach into a bustling arts and entertainment district that is now a major player in the finance and tech economy.