Project Photos
Situated near the vibrant retail and dinning hub of Causeway Bay, Hong Kong Island, this 613-key urban hotel attracts mostly business travelers from East Asia & South East Asia. In 2018, CHIL redesigned the guestrooms and public spaces in this hotel property to meet the needs of today's modern business travelers, allowing them to conduct business and relax at the same time.
Our concept for the refurbishment is inspired by the romantic and nostalgic notion of winding back the clock to the city's past as a small port, thriving from trade and commerce. Once a major harbour for transporting agarwood, a resinous aromatic wood used in incense and perfume, many believe the name Hong Kong (or, "fragrant harbour") was derived from the scent of this popular commodity, which filled the harbour air.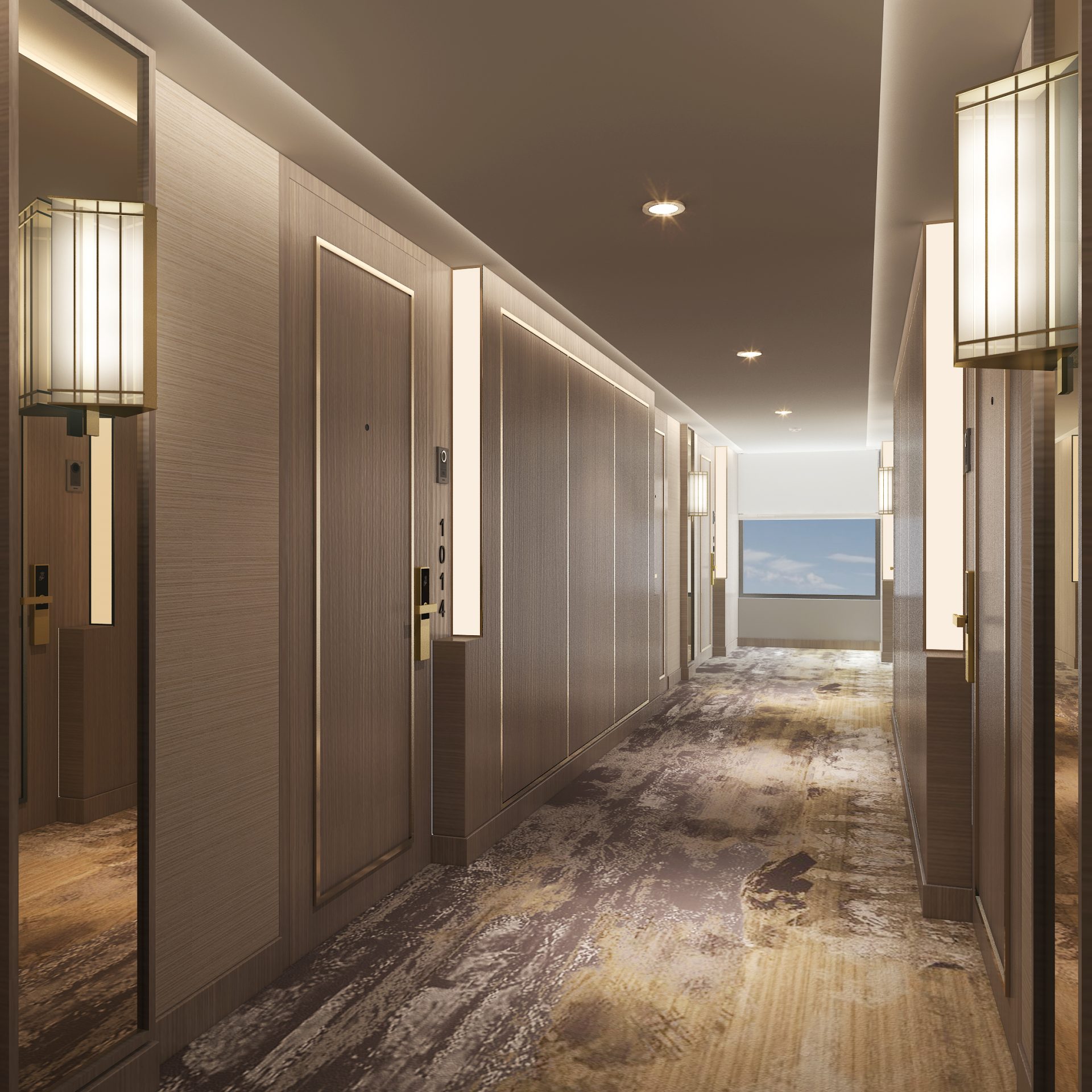 When thinking about the design contextually, we were inspired by imagining what must have been an impressive vista of the Hong Kong harbour, filled with ancient Chinese sailing ships and early European vessels. We wanted to recreate the sense of calm and stillness of the harbour's ships as they floated in place for the hotel's new interiors.
During this exciting and prosperous time, merchants traded extravagant and lavish commodities such as agarwood, silks, and spices. Rich accent colours, textures and patterns are influenced by these opulent goods, while the overall palette is kept neutral, elegant, and sophisticated, inspired by the woodsy brown of the agarwood and warm grays of the incense ashes. Organic shapes are used throughout the hotel's artwork and featured focal points to create a sense of movement – like smoke drifting from an incense stick or the rich fragrance of perfume scenting the air. The furniture collection and millwork are at once current and timeless, so no matter which era you are transported to when you visit this hotel, it will always feel familiar.
Modern day Hong Kong is vibrant, fast-paced, and cosmopolitan. Our interior design concept skillfully bridges the city's whimsical past and contemporary future, providing a beautiful and memorable time capsule for travellers who wish to experience the city's hidden treasures in a different time and place.
"When a location becomes more than a location – when it becomes a memorable and iconic experience versus simply a place to visit," Lucas Gallardo, a Senior Associate with CHIL, comments. "It leaves travelers inspired and enlivened by expanding their horizons and shaking them out of their routine."