Project Photos
The Home Office for family-owned Irving Oil brings together employees spread across six offices in Saint John under one roof to enhance business outcomes and take the company into the next stage of their evolution. The Home Office's proportions and horizontal datums respond to the surrounding historical context of neighbouring buildings, reinforced through the frieze, cornices, and setback above the podium. The main entrance is landscaped to echo the park across the street, including a setback that accommodates for ample greenery.
Irving Oil artifacts and memorabilia are displayed in the lobby to celebrate the company's history. This is carried throughout the building via photography and digital displays commemorating a storied past while looking toward an innovative and dynamic future. Featuring a soaring central atrium daylit from above, the entrance lobby is designed to accommodate all employees for gatherings and is animated by an open staircase connecting upper levels. Visibly integrating all levels and business units, the central staircase encourages unexpected interactions and social engagement across the company. The use of natural materials such as white oak, patinaed bronze and a variety of Canadian limestones, paired with upholstery and carpet colours inspired by the Bay of Fundy and beach stone blue hues, create an authentically East Coast aesthetic.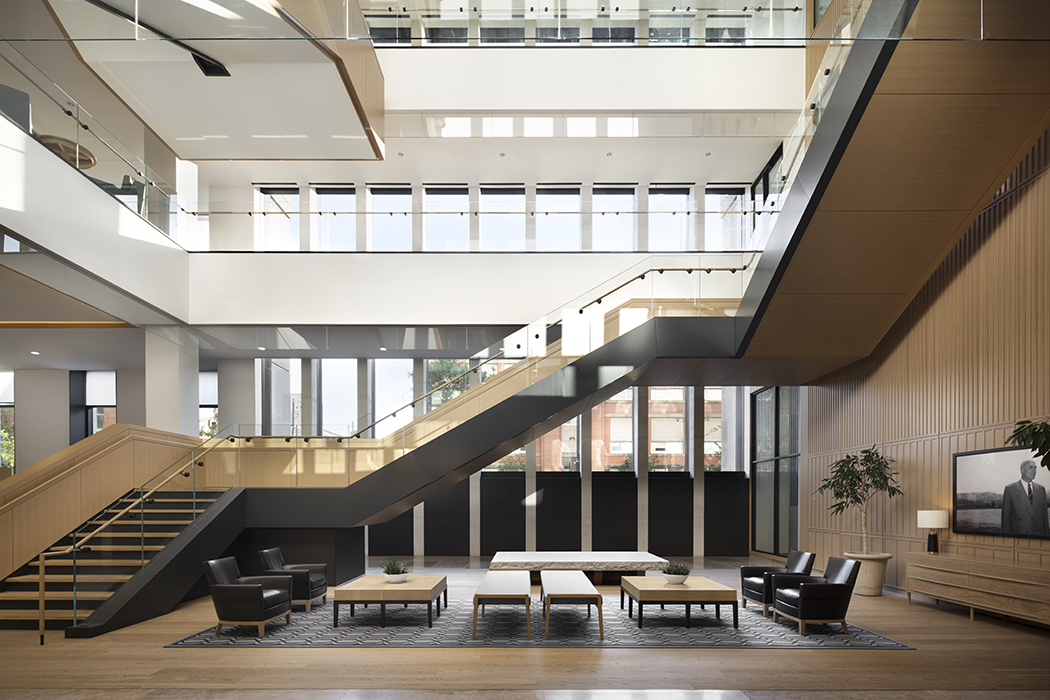 The design team facilitated workshops in consultation with senior leadership and a cross section of departments that represented demographics and workgroups to seek input on Irving's current state and strategic direction. The data collected was used to evaluate workplace solutions, resulting in a workplace and interior design that advanced the client's objectives. Our team was able to efficiently plan individual work points to allocate more space for collaborative settings and communal spaces as preferred amenity for employees. Rooted in wellness, the design includes features and amenities including access to natural light, promoting movement through design, onsite health services, 24/7 access to the fitness centre, bike parking, and healthy food options in the café along with access to outdoor dining. Sustainability was at the forefront of the design approach from the onset of the project and the building achieved a LEED NC Silver certification.