Project Photos
A P3 project, the New Adult Mental Health and Addictions Facility (NAMHAF) will be a newly built, six-storey, 102-bed facility developed with a focus on Eastern Health's vision for the future of mental healthcare in Newfoundland and Labrador. The master plan addresses its addition to the existing Health Sciences Centre (HSC) campus by considering its impact on the wetlands, safe circulation, existing infrastructure constraints, and year-round landscape design. The project enhances the public space and landscapes of the HSC campus by connecting all patients and family members to the healing power of the natural surroundings.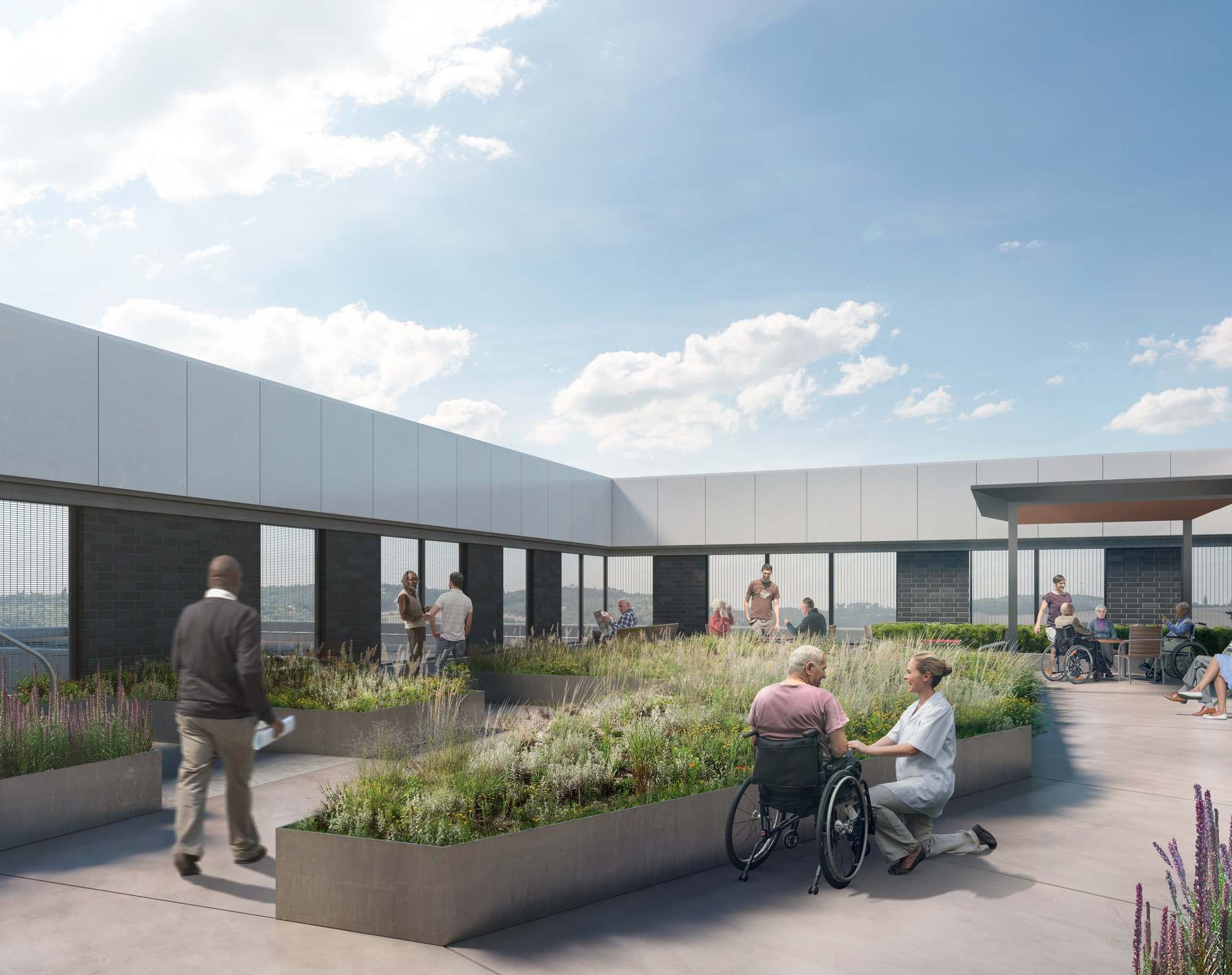 Inpatient amenities will include a therapeutic mall with services such as physiotherapy, a village square, a fitness studio, an art and music therapy program, a horticultural suite, a hair salon, a clothing store, a library, and indoor and outdoor labyrinths for contemplation. In addition to including 102 beds, the facility will also incorporate:
a 50-bed hostel
a forensic unit
two adult acute units
a geriatric unit
a short stay unit
an eating disorder inpatient program
The Government of Newfoundland and Labrador has committed to transform the way mental health and addictions services are delivered. The NAMHAF includes inviting and accessible outpatient treatment services to reflect the province's approach to bringing care closer to patients and their families. These services include consultation and exam spaces, phlebotomy, dentistry, and ECT and TMS treatments (the first of its kind in Newfoundland). The design of the NAMHAF continues to support this vision through the guiding principles of design:
reducing stigma
client-centred care
recovery-focused philosophy
access to quality care
community and family integration
The NAMHAF is designed as a modern facility that lives as a distinctive new addition to the existing HSC campus. Its engaging and bright exterior design features stepped terrace courtyards that lower the building to the visitor, creating a warm and welcoming entrance to a facility that celebrates and invites its users to a destigmatized mental healthcare environment. Meanwhile, the colours of the building exterior are inspired by the diversity and richness of local seasonal hues and by bringing them together in the design, symbolize the inclusivity of the facility.
The angled form of the inpatient tower has been designed to ensure rich daylighting of the patient spaces. The vast majority of patient and hostel bedrooms will receive direct daylight, and the social spaces such as the lounges, television rooms, and dining rooms have been arranged to receive direct daylight regardless of the floor.