The Beginning of an Ongoing Conversation
The Sustainable Development of Yangon, Myanmar
On June 19, 2017, B+H and the Embassy of Canada to Myanmar invited a team of industry leaders to the Sule Shangri-La in Yangon for a thought-provoking deep dive into sustainable urban development in the region. Robert Marshall, B+H Principal and Global Director Planning & Landscape, drew from his 30 years of experience to inform the keynote address. His keynote was followed by a panel discussion moderated by Marshall and Karen Cvornyek, B+H President and Regional Managing Principal, Asia.
According to Marshall, Yangon has avoided a generation of potentially bad urban development decisions, and now has an opportunity to learn from the missteps and successes of others. With a colonial heritage that remains largely intact and a growing need to modernize public infrastructure, Yangon provides a unique set of circumstances for a Southeast Asian city.
In attendance were leaders from key real estate, construction, research, finance, technology, and legal firms in Myanmar, in addition to public sector delegates and representatives from several ministries and associations. Panel speakers included: Thit Lwin Oo from Zenith Power Engineering, Dr. Aung Kyaw Thu from AKT Construction, Peter Crowhurst from Yoma Strategic Holdings Ltd., and Moe Moe Lwin from Yangon Heritage Trust. The panel discussion explored an integrated planning approach to the future of Yangon that balances social and environmental factors with local economic conditions.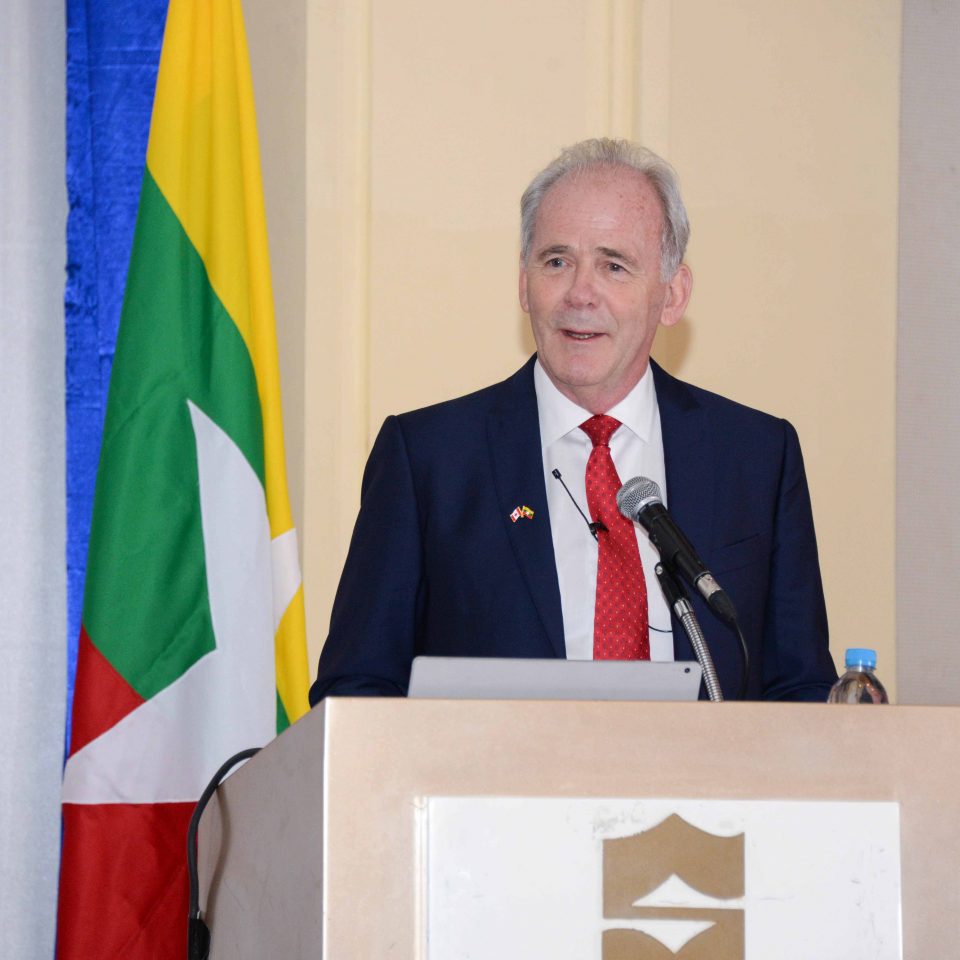 Imagining the Future of Yangon
There are many lessons to be learned from other cities that have undergone massive development. Dubai, for instance, teaches lessons learned from rapid growth where infrastructure was built first, followed by separately planned developments that were ultimately connected by a larger vision. In Bogota, by applying smart water strategies, its landscape is used as infrastructure. London and Singapore speak to a pride in heritage – the former of which creates a distinctive character through its maintenance of cultural landmarks and the latter, celebrates history and reclaims land for future use.
The future of Yangon depends on a strategic plan that blends design, rooted in the region's colonial past with forward-looking technology to create distinction and sustainability. Future sustainable development in Yangon will:
+ Attract investors and tourists
+ Compete economically in a global market
+ Incorporate environmental, social + economic sustainability
+ Retain urban history + cultural value
Exploring Yangon's Investment Landscape
The components of a healthy investment landscape exist within Yangon; however, the country's banking system lacks a solid platform for local and international investment. A strong platform will require that all players move towards a unified vision. Through concrete policies and a strong relationship between the government and homegrown investors, particularly SMBs (small- and medium-sized businesses), local investment will support the infrastructure required for economic growth. Myanmar is competing with the surrounding region and international investors need a reason to pump their money into Yangon's economy. Presently, as investment planners compare the country to others, Myanmar rarely makes their lists. Once Yangon's new infrastructure is established, international investor confidence will build and local and international investment will work together to shape a robust economy.
Mobility is Vital to a Healthy City
In Yangon, most people rely on the city's bus system, which is congested and inefficient, taking a huge toll on productivity. However, mobility in any city is as much about public transit as it is about creating a more accessible and pedestrian-friendly urban core. Rapid transit in the city requires infrastructure to support pedestrians entering the CBD (central business district) without cars through inviting and walkable streets. Considering that Yangon was once very walkable, it makes sense to blend public transportation with a welcoming and open public realm that encourages people to get around by foot. Looking ahead, Yangon can begin to address the future of transportation, including autonomous cars and car-sharing, through a new approach to the design of roads and parking spaces now, providing an advantage as it moves forward. This will better enable the city to adapt to future disruption and innovation.
Infrastructure: Moving Beyond Mobility
While an integrated and cohesive planning approach to roads, walkways, and transportation will improve walkability and address the public realm, sustainable infrastructure will address the need to integrate modern and future technology into Yangon's urban development. Having missed a generation of development, Yangon is in the unique position to bypass much of the older and outdated technologies altogether, offering a huge advantage for future growth. Within the last four years alone, there have been giant leaps made with introducing technology in the city, and the key to success will be to continue forging ahead with an eye to the future. To maintain this momentum, it's essential for all key players including government, and public and private finance to take a comprehensive team approach that acts transparently and efficiently.
Building on Yangon's History
While a forward-looking vision is imperative to growth, the preservation and redevelopment of Yangon's historic architecture stands to anchor Myanmar and its rich heritage. Renewing Yangon's built history has often been complicated and difficult. Despite its challenges, conserving Yangon's legacy is essential to creating experiences that will uniquely position it in a globalized and increasingly homogenized world, attracting investors and feeding the economy. Extending beyond buildings, maintaining the country's heritage encompasses the preservation of the culture of the land and its people. Maintaining the cultural assets of Yangon will support the creation of unique and alluring urban environments that will nurture local pride and support a growing tourism industry, which is increasingly seeking authentic experiences.
Redeveloping the Economic Hub Along Yangon's Waterfront
Already functioning as a local microeconomy, Yangon's waterfront provides a huge growing opportunity to continue to support the city. A significant economic driver already replete with businesses, redevelopment of the waterfront will support the local economy and create a popular destination for tourists so long as it maintains its position as an economic hub for essential local commerce. The expansion of the waterfront must rely on development and not displacement to be truly successful. An important component of the sustainable development of Yangon, the riverfront offers coveted space to support open and green public areas that will energize the city by engaging and connecting people and spaces.
Creating the Future Through a Unified Vision
The future of sustainable planning in Yangon depends upon an ongoing conversation with key leaders, influencers, and communities to arrive at a unified vision for the city. The successful development of Yangon lies in strengthening communities – not in tearing them apart and starting from scratch. Sustainable growth requires the introduction of building development regulations, urban development strategies, and new infrastructure that represent the latest technologies in both quality and sustainability, while maintaining the strong sense of the heritage and culture that makes Yangon unique.
Click here to view the event's livestream on the Embassy of Canada to Burma-Myanmar's Facebook page.