Future Forward: The Rise of Urban Enclaves in Metro Vancouver
Coquitlam Centre
Extract from Avison Young's Topical Report (Spring 2019).
As previously noted, much of the development in Coquitlam will take place near the Burnaby/Coquitlam border in the Lougheed and Burquitlam areas. Coquitlam Centre saw heightened development activity leading up to the opening of the Evergreen Line, and will see even more as the shopping centre is transformed into an urban enclave through a multi-phased, master-planned development over the next 60 years. Southern Coquitlam, traditionally an industrial-oriented area, will also undergo a transformation into a mixed-use community with the addition of the Fraser Mills development.
Beedie Living's Fraser Mills development has been in the planning stages since 2008 when a neighbourhood plan was adopted by the City of Coquitlam. Unlike many masterplanned developments in Metro Vancouver, the site is not located directly on transit and does not feature an existing shopping centre. The most recent proposal for the roughly 94-acre site includes 15 towers, a maximum of 4,700 homes, 228,000 sf of commercial space, 547,000 sf of industrial space.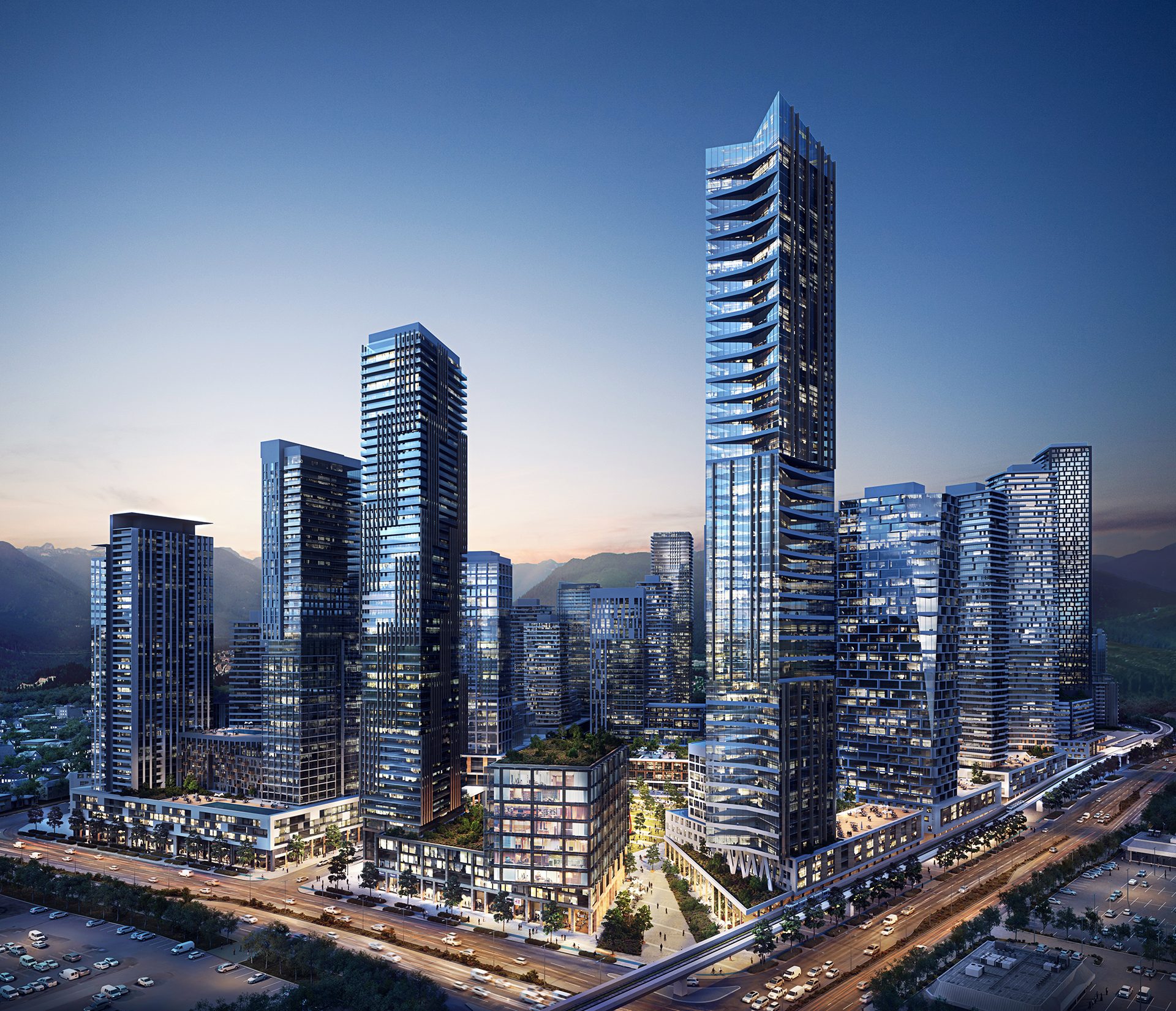 Coquitlam Centre saw a flurry of development activity between 2009 and 2016, with 12 towers containing 2,210 homes constructed during that time frame. With the addition of the Evergreen Line and the positioning of Lincoln Station, the door is open for more transit-oriented development not only on the Coquitlam Centre site itself, but in the neighbouring area. Morguard is beginning the planning process for the 60- acre site, envisioning a multi-phased, transitoriented, master-planned community taking shape over the next 60-plus years. Phase one of the development will occur in a 16-acre area in the northeast corner of the site. The surrounding area includes developments in various stages of planning and construction by Onni, Polygon, Marcon, Uniment Homes and Ledingham McAllister.
Transit-oriented development has also been triggered in Port Moody by the opening of the Evergreen Line – the most high-profile project being the redevelopment of the Flavelle Mill site. An OCP amendment was approved by Port Moody in 2018, but there has not been any significant progress on the project since.
FRASER MILLS
15 Residential Towers
4,700 New Homes
228,000 sf Office Space
547,000 sf Industrial Space
COQUITLAM CENTRE
TBD Residential Towers
TBD New Homes
What does this mean for Metro Vancouver?
With more than 1 million people expected to move to Metro Vancouver by 2041, the pressing need for not only dwelling units, but the commercial and employment space to support that population growth, has resulted in the rise of so-called urban enclaves throughout Metro Vancouver.
The development of these urban enclaves, which typically include hundreds, if not thousands, of dwelling units as well as substantial amounts of retail and office space, started breaking ground in 2014-15 and have been largely limited (although not exclusively) to development sites located on the region's SkyTrain rapid-transit network. Construction is often phased and, in some cases, stretches for a decade or more. The reasons for this protracted activity are simple. Metro Vancouver is a highly constrained land market with land prices that have ranked among the most expensive in North America in recent years. Housing affordability issues have been and remain a top concern among many citizens. With land at a premium, traditional regional shopping centres – most having been built in the car-centric 1960s with expansive parking lots and later connected to regional public transit systems – were identified as unrealized sources of developable land. While traditional metrics of valuing shopping centres were based on traffic and sales per square foot, the value of the land – and its potential for redevelopment – rose to prominence in developers' estimation of its value, particularly in land constrained markets such as Metro Vancouver.
Metro Vancouver and its constituent municipalities have encouraged developers to build along transit corridors and allowed higher densities at development sites that had long been established as commercial retail nodes such as regional malls. Public opposition was often limited and nowhere near as ferocious as the outcry against many in-fill developments located in or near primarily residential neighbourhoods. The economics of these developments, while substantial in scale and often decades in the making, has become better understood since 2013-14 and embraced by sophisticated private and institutional investors with substantial capital to deploy. While core markets such as Vancouver and Burnaby were often the first communities where developers/investors acquired malls with an eye to more than retailing, the pattern has spread across Metro Vancouver and BC.
These urban enclaves represent the beacons of density called for by city planners, progressive politicians and transit advocates alike. Property owners with holdings adjacent to or near the developments highlighted in this topical report can benefit from better understanding these massive projects that are redefining the urban fabric of the region. Understanding the scope and scale of the urban enclave phenomena allows developers and commercial real estate owners/investors to make decisions that ultimately help to improve regional liveability in this land-constrained market. These urban enclaves are a tangible manifestation of Metro Vancouver's regional growth strategy, Metro Vancouver 2040: Shaping Our Future, which was adopted in July 2011. These future communities serve as examples of a regional approach to planning that for decades was absent from the public discourse and now provides the blueprint for a future that can accommodate not only population growth, but economic and cultural development as well.