Healthcare Design in Canada
Originally Published in Chinese Hospital Architecture & Equipment Magazine
Foreword
Author: William P. Nankivell
B.Arch., OAA, Architect AIBC, AANB, AAA, FRAIC, AIA
CEO, B+H
In today's fast-changing world, our global healthcare landscape is experiencing a time of significant disruption. Innovation in the field of medicine is exponential, and it's happening at the same speed as technology development. In many cases, it's directly correlated. Consumer expectations have also changed – demanding more focus on transparency, convenience, and a more holistic and personalized approach to community health and wellness. By 2030, the World Health Organization (WHO) estimates there will be a global shortage of approximately 18 million healthcare workers, approximately 20% of the workforce required to keep healthcare systems going.
It's clear we are facing new and unprecedented challenges, and the simple formula we once used to treat patients no longer applies to today's modern and highly complex reality. What do we mean when we say we're building for the future? How do we account for tomorrow's unknowable landscape in the spaces and buildings we design today? Therein lies the opportunity for innovation and transformation.
At B+H, we believe that future-thinking healthcare design understands that patient needs will change, requiring solutions to evolve alongside the communities they serve. Technology will continue to evolve and transform the way we deliver healthcare services, offering better, safer and more capable ways to visualize and treat injury and illness. Costs will continue to climb as payers, whether they are governments, private industry or insurers, seek accountability and push for more economic solutions while enabling productivity. The constant that remains is that, above all, people are at the heart of any solution, whether they are patients, families or care teams.
To design the healthcare of tomorrow, we must respond to future human, technologic and economic realities. As developers, operators, and the architects of our healthcare system, we must create environments that add value today and in the future by exploring, questioning and responding to the most important component of lasting design – people. If we want a future where people come first, the future of healthcare lives at the intersection of disruptive innovation and human interaction.
After all, the best solutions aren't just about buildings and spaces – they're about the human experience.
Healthcare Facilities Design Trends in Canada
Author: Chris McQuillan
The landscape of healthcare design in Canada is constantly evolving, frequently being pushed forward by regional initiatives that address the specific needs of the areas they serve. In a country spanning so much distance and with each province running its own healthcare system, it can be difficult for trends to become widespread rapidly. Canadian values don't differ hugely between regions though, and so the most important trends in healthcare design are eventually adopted nationwide.
One of the major causes of a change in Canadian healthcare design in the last decade was the introduction of a new Canadian Standard Association (CSA) standard, CSA Z8000, Canadian Healthcare Facilities–Planning, Design, and Construction, in 2011. Its primary goal was to improve the safety, effectiveness, and efficiency of healthcare facilities by focusing on five key principles: operations, accessibility, safety and security, infection control, and sustainability.
The focus on infection control was an important one, as in 2013 about 220,000 Canadians were struck by healthcare acquired infections (HAIs) and 8,000 died from these infections, according to the Public Health Agency of Canada. The need to address this alarming statistic through every avenue possible was clear, and the Z8000 strongly influenced the way healthcare design addressed this problem specifically. One of the primary guidelines set by the new standard was the requirement for single-patient rooms, or at minimum private bathrooms for those patients who were required to share a room. In just the two years following the release of the Z8000, new healthcare facilities saw a rise from 15% single-patient rooms to 71% single-patient rooms. This shift proved effective, seeing dramatic decreases in hospital acquired infections.
This shift toward single-patient rooms within healthcare facilities has been effective in improving patient safety, but has created a new challenge – the isolation of patients during their stay. Healthcare design has been responding to this new challenge in Canadian healthcare, incorporating shared public amenity spaces adjacent to retail and food, outdoor gathering spaces, and other places where they can interact with other patients and their own families outside of their hospital room. It is becoming more and more common to incorporate family accommodations in patient rooms, particularly in pediatric and maternity wards. Built in beds allow for the loved ones of the patient to sleep comfortably while providing the care and support that is known to help in the healing process.
These changes are all part of a larger trend toward patient-centric healthcare design. In large part this comes from using evidence-based design. This field, now commonly accepted, grew slowly out of Roger Ulrich's work, in particular a 1984 study that showed that patients whose windows faced a natural view recovered faster and needed less painkillers. It has since also been shown that any view improves the expediency of recovery in patients, and so more healthcare facilities in Canada are being designed to provide all patients with a window, whether they are inpatients or coming for ambulatory care. Further patient-centric design features include control over their own lighting, window shades, digital entertainment, temperature and the like. Careful attention is being paid to acoustic control to create quieter and more restful healthcare environment for both patients and staff. In a youth mental health ward of one hospital, calming colours were used to make the space feel more welcoming and safe, a better place for recovering from the difficulty of mental health issues.
Patient-centric design also means healthcare facilities are now being designed with more care towards diversity and inclusion. This has manifested in more intuitive wayfinding that is easy to understand regardless of language or other barriers, more control over their individual environments, wider hallways for accessibility, and actually consulting with patients in what they would be looking for in a hospital.
Designing with the end-users in mind, from both a patient and staff perspective, cannot ignore technology anymore either. In Canada, more and more healthcare facilities are shifting toward being paperless. This shift enables the integration of historically separate workflows and the centralization of relevant clinical and diagnostic information into a single patient digital chart. New buildings have to support wireless systems, while also providing the flexibility to shift a storage space for paper records to another use when the time comes. In this regard, the most important consideration is that the design of the space will function for the staff now and well into the future. Trends such as hybrid operating rooms, creating large open spaces that have partitions that are easily movable, and designing inpatient floors to allow for flexing of unit size and acuity type all help to futureproof new healthcare facilities.
To truly futureproof healthcare facilities, however, it is vital that design look beyond the interior uses of the building and begin to consider how a hospital can function as part of the larger community. Incorporating community amenities such as a library or community center into the hospital campus, creating large green spaces that can be used by anyone in the community, and developing spaces in which to host various public events are all part of the future of healthcare design in Canada. In doing this, patients are also able to continue to feel connected to their larger community during their recovery, which in turn speeds up healing and makes reintegration a smoother process. Designing hospitals to be hubs of the communities they serve also establishes them as places of wellness as opposed to illness.
Designing healthcare facilities and campuses that provide multiple services and functions is the way forward, and it is a trend that is already happening in the Canadian mixed-use space. Across the country, shopping malls are being converted into communities that still have retail, but now also include residential, office, and public gathering spaces. Office towers contain boutique hotels, pop-up retail areas, and event spaces. Healthcare design can take its cue from this trend toward multi-use facilities and improvement of the public realm through a building. Hospitals, at their heart, are about looking after people, and healthcare design will continue to build upon this core value by extending it beyond the hospital walls and into the community which it serves.
Part of serving the broader community means lessening the impact of healthcare facilities on the environment. Designing healthcare facilities to be more environmentally sustainable is a rapidly rising trend in Canada. Improving airflow not only helps patients' quality of life, but improves energy consumption. More new facilities are targeting LEED certification, using methods such as high-efficiency HVAC and electrical systems. The proliferation of outdoor spaces embedded into the buildings provides an opportunity for further sustainable design initiatives, such as rainwater collection and green roofs. Designing environmentally responsible healthcare facilities will only become more imperative as time goes on, and its prevalence will rise in accordance.
Healthcare facilities in Canada face a myriad of challenges, but intelligent, evidence-based, patient-centric design is addressing many of them. With the support of new technologies and specialized care providers, many services are moving from the hospital and into the community where access is better and costs can be lower. As the issues within the walls of hospitals are addressed, healthcare design will continue to expand into the community to address larger issues facing Canadian communities. They will become hubs of activity, spaces of inclusion and diversity, and beacons of warmth and welcoming.
Hospital as the New Community Hub
Michael Garron Hospital
The Michael Garron Hospital Patient Care Tower is the first step in a physical, technological and operational transformation in which the activities of the hospital span beyond its role as a 'place' into one where it engages the community virtually and physically as a network of place and service. The building becomes a hub of care – engaging and shaping community wellness in a new way as its design moves from an 'inside out' to an 'outside in' approach.
Located on a main thoroughfare in Toronto's East York region, Michael Garron Hospital (MGH) has been a landmark in this ethnically diverse community for generations and was intended to be a community amenity. Over time, as the surrounding population continued to densify and diversify, it expanded to meet more acute care needs and as a result lost its integral connection with the local community. The current redesign will re-centre the MGH as a hub of the community and establish itself as the precedent for future place-based healthcare design.
As communities continue to evolve, the need for hospitals to fill many roles within them has become undeniable. In order to better meet the needs of its growing, diverse population and truly become a community hub, MGH is transforming itself to better engage with and shape community wellness in a new way. In this way, the MGH is demonstrating how, through a holistic approach that considers best practices in urban and master planning, landscape, architecture, interiors and public realm design, hospitals can provide integrated place-based healthcare delivery that enhances the experiences of all users and create a sense of place for the community.
MGH's community is incredibly diverse economically, ethnically, and generationally. The new Patient Care Tower addresses this important cross-section of need through its community-centric design. This new facility will be welcoming, engaging, modern and enhanced with leading technologies, while  remaining rooted in its history. The lobby will showcase heritage stained-glass windows retained from the earlier building. The main entrance will invite all members of the public inside through a broad expanse of transparent glass and a deep, sheltering entrance canopy. After dark the lobby becomes a warmly glowing beacon to the community, the ambient interior lighting illuminating the activity within.
Generous landscaped green spaces extend the indoors out. Walking paths and dedicated seating areas provide opportunities for patients, staff and visitors to enjoy the outdoors in the warmer months while also providing community activation opportunities, such as farmers' markets or public events. The landscape design leverages the existing mature trees and shrubs along the main street bordering the hospital, which are used to create a welcoming green oasis and public gathering space for hospital staff, patients and visitors, as well as the broader community.
Developed in partnership with EllisDon Infrastructure Healthcare, the growth strategies for future-proofing the MGH include creating large open spaces with a minimum of fixed elements, using partition walls that are non-load-bearing, lightweight, and easily dismountable to ease reconfiguration of wall space, and standardized inpatient floor layouts that allow flexing of unit size and acuity type. Inpatient bedrooms are arranged in clusters to allow swing space depending on patient volumes, and as do shared waiting areas for ambulatory clinics.
A 10% reserve capacity is engineered into key mechanical systems in the facility, and secondary electrical rooms and ICAT rooms are vertically stacked, minimizing changes to infrastructure required to accommodate changes in use. Vertical circulation and service shafts are grouped in centralized locations, freeing up large uninterrupted floor areas.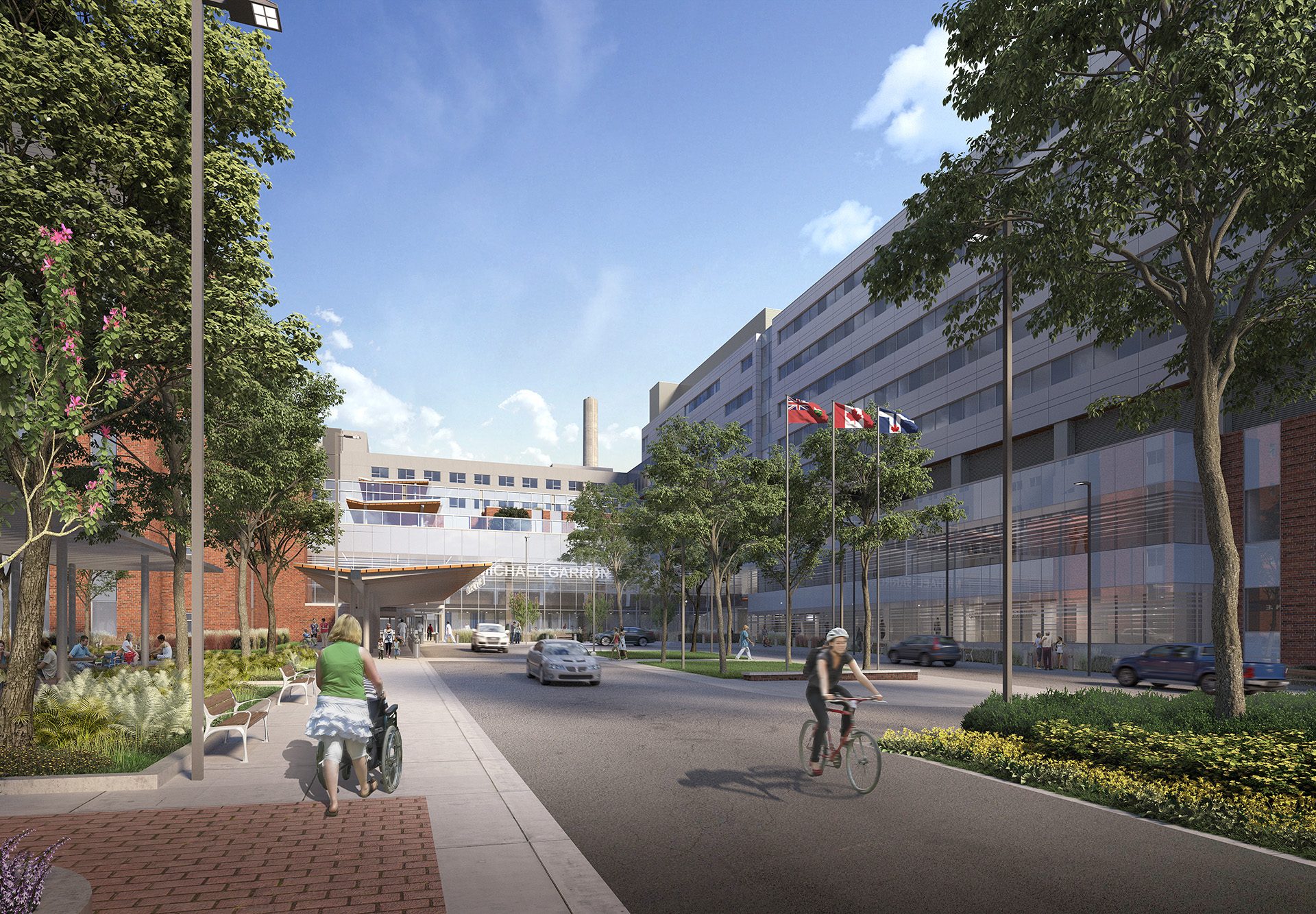 These measures will allow the MGH Patient Care Tower to adapt over time to the needs of the community it serves. Whether it is changing the layout of a waiting area, clinic, or entire floor the building is designed for flexibility. As the community and healthcare itself changes, the hospital will be ready and able to respond.
The MGH Patient Care Tower actively uses design itself to promote healing, recovery, and well-being. Research has shown the positive benefit of providing natural light and exterior views to patient outcomes, and our design has incorporated this in multiple ways. Generous windows in inpatient rooms, exterior views at ends of inpatient corridors, and a main lobby with a two-story glass façade contribute to the maximization of natural light accessed by all.
To counter the sense of disorientation, anxiety and helplessness many feel with an acute-care hospital environment, our design emphasizes intuitive wayfinding and provides inpatients with direct control over their environment. Single-patient rooms help to minimize external noise and distractions. Family involvement in care is promoted by comfortable visitor seating in inpatient rooms, greater space around inpatient beds, and family-sized waiting areas and exam rooms.
From the outset the creation of lushly-landscaped green spaces that could be used by anyone in the community were incorporated, as the connection to nature is universal. Some landscaped areas are planned to serve as location for site-specific art installations, reflecting the diverse interest of the surrounding community. The design is registered and targeting LEED v4 BD+C Silver certification for building performance. A highly insulated building envelope and high-efficiency HVAC and lighting systems will help achieve this certification.
The MGH's place in its community reaches past the confines of a single-use, isolated institution with a finite lifespan. It is embedded into its environmental and social ecosystems and will become a community hub for sustainable living.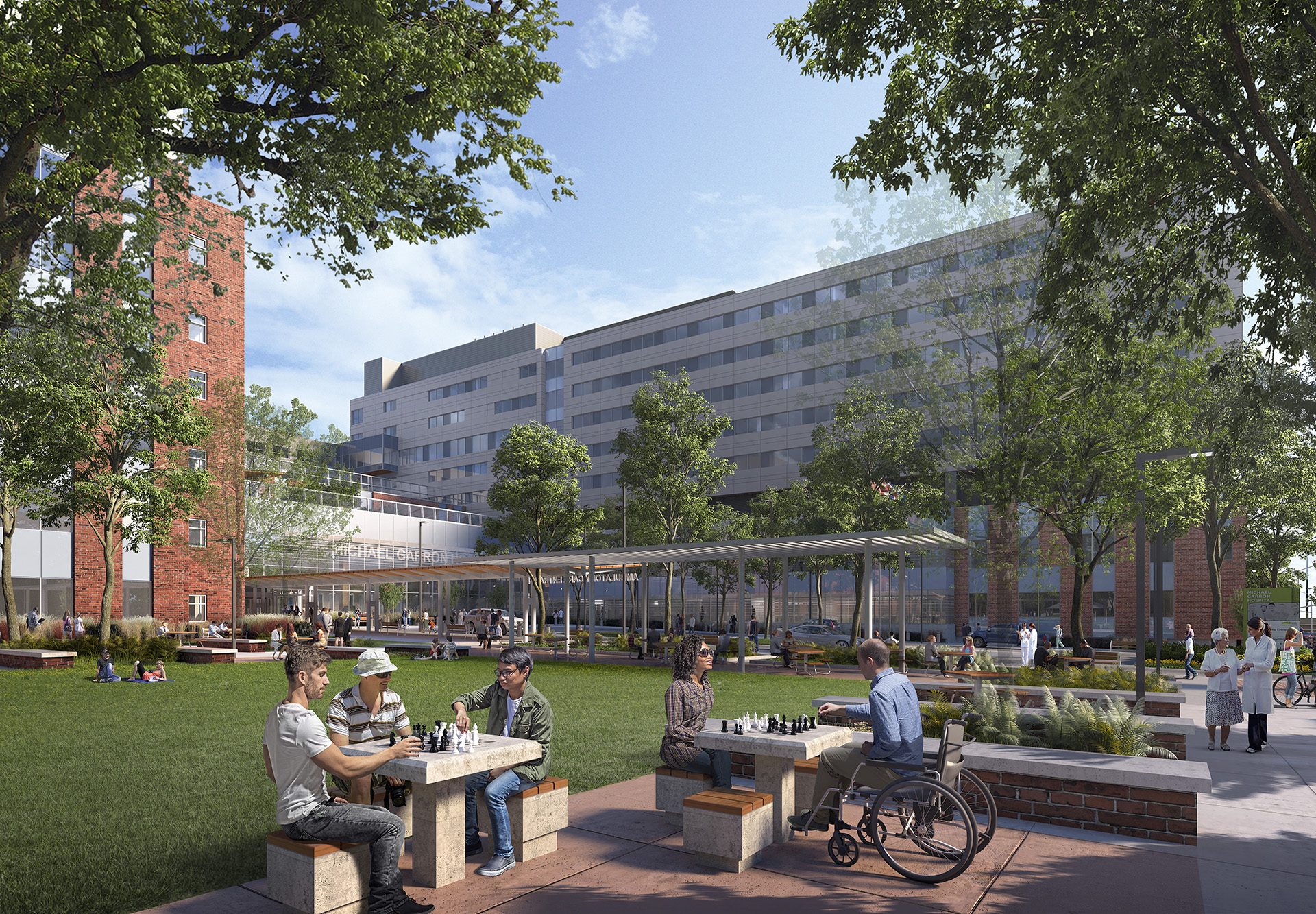 Flexible Design for Future Practice Models
St. Catherines Hospital and walker Family Cancer Centre
The St. Catharines Hospital and Walker Family Cancer Centre is the primary acute-care hospital serving the Niagara Peninsula and is the first Design, Build, Finance, Maintain (DBFM) healthcare facility to be delivered through the Province of Ontario's Alternative Finance and Procurement (P3) delivery model. To help optimize program adjacencies and streamline operational workflows, our design team consolidated program blocks around a light-filled central atrium bisected by a T-shaped main circulation street. Patients and visitors access all inpatient units from a central elevator core, which simplifies wayfinding and significantly reduces travel distance within the complex. The main street is visually identified by variegated limestone walls, the horizontal striations symbolizing the layered sedimentary rock formations of the Niagara Escarpment and the landscape of one of Ontario's most beautiful agricultural regions.
St. Catharines Site establishes comprehensive cancer care – including radiation therapy – for the first time in the Niagara Region, strengthens local options for cardiac diagnostic and interventional care, and is the regional centre for maternity care and acute mental health care.
Mental health services account for some 82,000 gsf of program area. Acute inpatient facilities are located directly adjacent to the emergency department; its 30 beds include two isolation rooms and clinical support areas positioned for direct patient observation by staff. Direct access to a secure outdoor courtyard introduces the calming presence of nature, as does a palette of soft natural colours and textures. Workflows planned according to Lean principles improve operational efficiencies, reduce staffing requirements and improve the quality of patient care. A comprehensive range of ambulatory care facilities include those for transfusion therapies and for neurological assessment and treatment.
The 67,000-square-foot Walker Family Cancer Centre introduced new radiation therapy services to Niagara, enabling many patients who previously had to travel to hours to other cities to receive the life-saving treatment in the region. Chemotherapy treatment, which was formerly available to Niagara cancer patients at St. Catharines General Hospital is now offered at the Walker Family Cancer Centre.
The new facility has been built to accommodate growth. It will allow the flexibility to meet the changing needs of the community as time passes. The design accommodates growth in short-to long-term scenarios, including total facility regeneration over the long term. Growth was considered internally as well as externally. Internal growth will occur in 25,000 s.f. of "soft space" (generally non-critical administrative programs), strategically dispersed in buffer areas between key departments such as Diagnostic Imaging and Emergency. External expansion is pre-designed for Emergency and OR, and a major new Inpatient Tower can be accommodated with elevator locations already set aside.
For the Niagara Health Services Healthcare Complex, the design life cycle of the facility is mandated at a minimum of 50 years as defined in CSA Standard 276 S478-95 Design Service Life for Long Life Institutional Buildings including Health Care facilities. Here the Design Team worked in tandem with the DB contactor and FM provider to develop a Building Durability Plan complete with life-cycle cost metrics. Key features include materials and systems that are robust, minimize maintenance and replacement and feature details designed to ensure building envelope integrity over the long term.
Registered and designed to achieve LEED Silver, the hospital targets an energy savings of 46%. Measures include high performance building exterior, ventilation air heat recovery on most of the outdoor air, high efficiency boilers and chillers, low flow service water fixtures, efficient lighting design.
Built to current state-of-the-art standards, the St. Catharines Hospital and Walker Family Cancer Centre is designed to anticipate future practice models and technologies. It is based on higher levels of integration, communication and sharing of resources amongst multiple key departments; ambulatory departments place an emphasis on innovative team-based, patient-centred care. An education component is a big part of the program, including research, connections to universities and colleges, and a 200-person lecture hall shared with the community.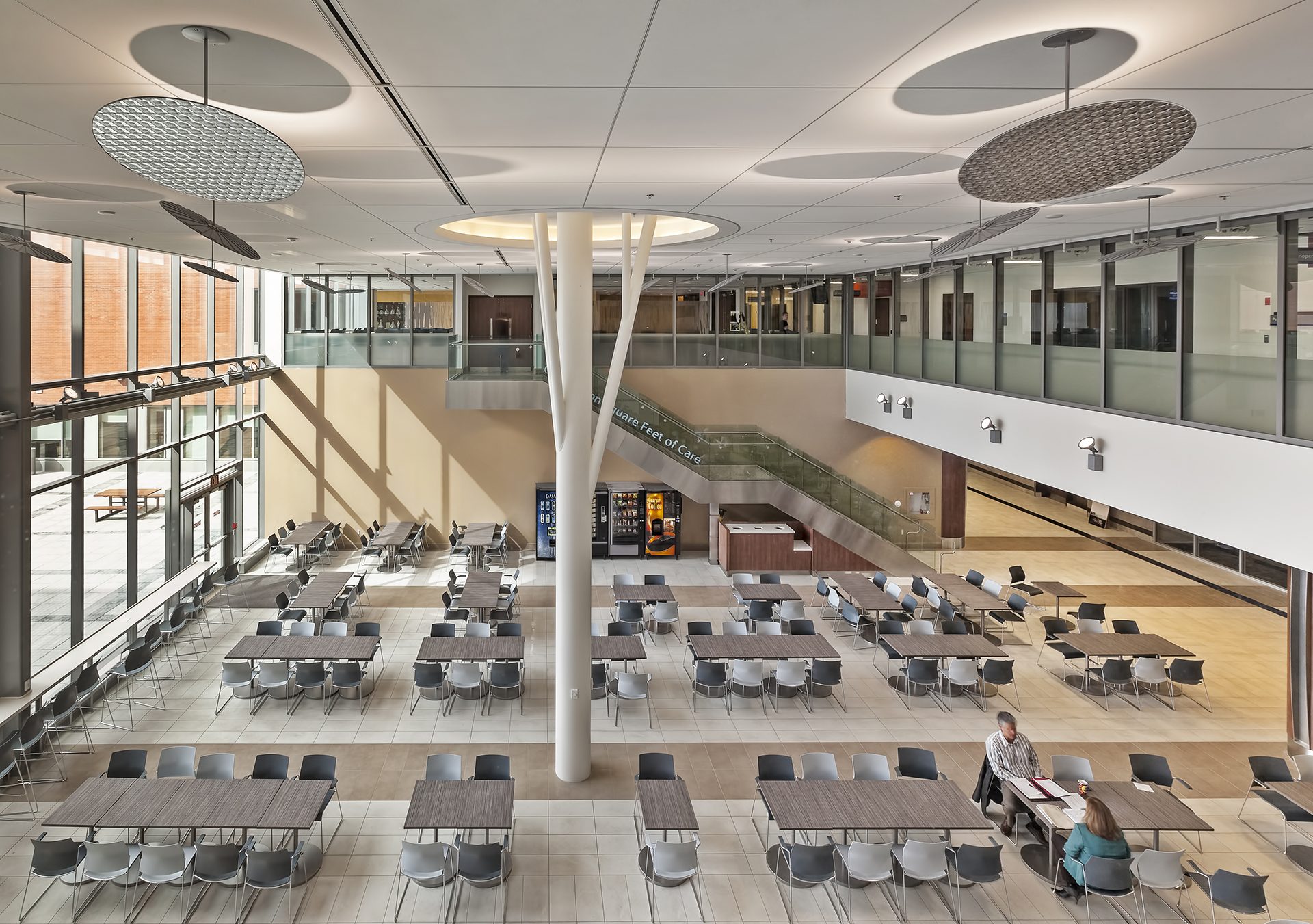 Transforming from Acute-care to Mixed-use Community Hub for Health and Wellness
Markham Stouffville Hospital Redevelopment
The 267 inpatient beds at Markham Stouffville Hospital (MSH) include facilities for complex continuing care, rehabilitation and palliative care. Our multi-phase redevelopment of this large community hospital optimized capital cost-effectiveness and operational efficiencies through a strategic mix of new construction and the renovation and repurposing of existing facilities. Long-term value is further assured by a flexible "future-proof" design that readily adapts to changes in patient acuities, medical technologies and models of care. A new main entrance welcomes the public inside through an expanse of transparent glass and a broad, sheltering entrance canopy, while the open and airy interior spaces, awash in natural light, are calming and stress-reducing for everyone—patients, staff and visitors.
The essence of MSH was a more intimate and personal experience of care – so although the facility needed to double, it was essential not to lose the feel of a friendly, comfortable and non-institutional place.  The site had strong connections to the views of the farmland and nature that surrounds the hospital – so the design captures these views and establishes green roof terraces and healing gardens.  The mass of the building was handled with glass stair-towers, curtains of light and generous canopies to welcome.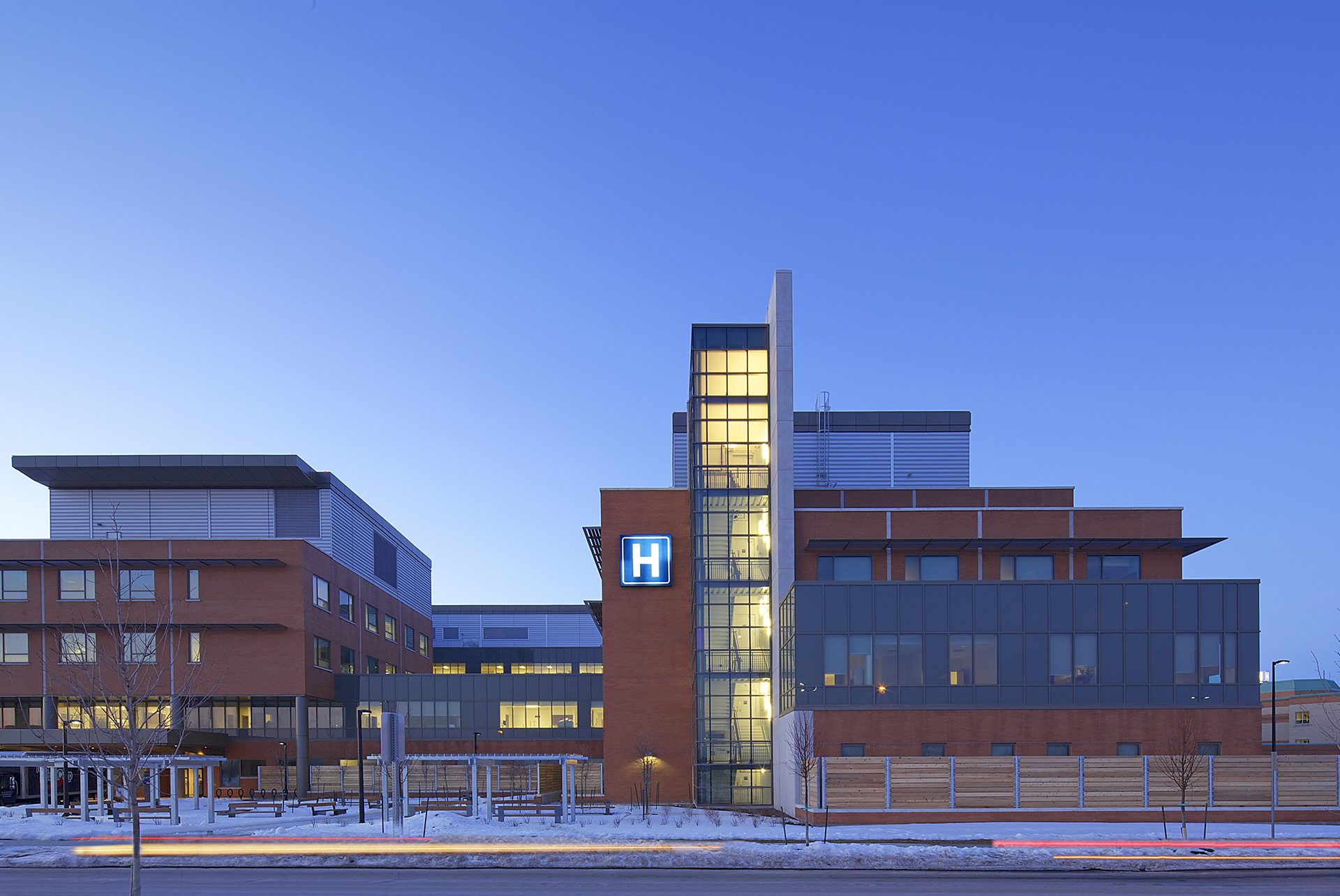 MSH is a true community hospital, many of the local primary care physicians run clinics at the hospital in addition to their local offices.  The design of the facility responded to a broad range of patients and needs.  Young patients are made to feel comfortable through the substantial transparency in the facility.  The spaces are light-filled, have views, are connected to the outside and are supported by interactive technology.  The use of colour and material is genuine – earthen tones, use of wood & stone, rich colour – playful lighting design and skylights to bring in the sun.  The aim is to appeal to all ages.
The MSH is a textbook example of environmental design best practices geared to healing environments and improved patient outcomes. The design incorporates evidence-based design solutions into the design of patient rooms and public spaces and is informed by LEAN Design principles optimizing operational efficiencies. The concept of patient-centered care is extended into the community through the Wellness Centre initiative which includes therapeutic recreational programs delivered in the community centre and by providing for medical library needs within the new community library co-located with the hospital.
Overall, the redevelopment of Markham Stouffville Hospital demonstrates how a suburban acute-care hospital can be transformed into a mixed-use community hub for health and wellness. The physical and operational integration of healthcare and community services, combined with new outdoor green spaces and stronger linkages to the surrounding neighbourhood, has created an integrated eco-system that supports wellness in all its dimensions and engages the community across the full spectrum of health awareness, prevention, care and aftercare.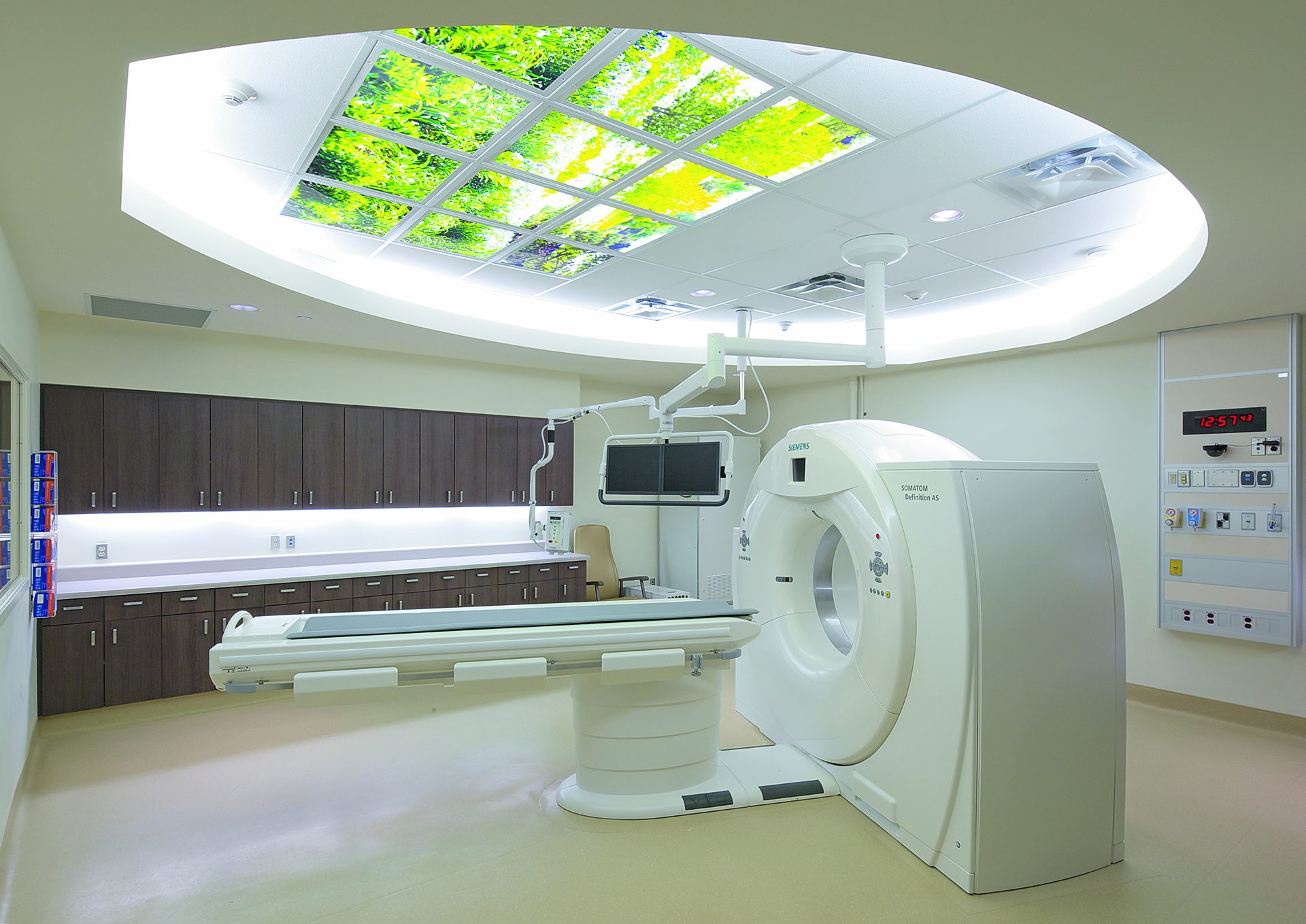 Create a Workplace that Encourages Collaboration and Innovation
SickKids Patient Support Centre
The new home of administration and clinical education at Toronto's renowned Hospital for Sick Children (SickKids), the new Patient Support Centre tower will support a collaborative and inventive workplace culture and bring together the vibrant Discovery District community. B+H is the Design Architect and Prime Consultant for this project.
The PSC will anchor a renewed SickKids campus and support a collaborative and innovative organizational culture. A two-storey entrance level is wrapped in transparent glass to activate the Elizabeth and Elm street corner; inside, a café and social hub will attract passers-by and provide a vibrant new destination for SickKids staff and the Discovery District community. An undulating façade with vertical fins animates the tower above, the sense of motion amplified by a colourful glass-walled staircase and pedestrian bridge connected to the main hospital buildings. Office workplaces are open and airy, with flexible desking systems and casual seating to accommodate both individual and group work. A rooftop event space and garden terrace capture unobstructed southern views and sunlight.
Constructing the PSC is an important first step in building the hospital of the future; moving staff out of the oldest parts of the campus will allow SickKids to free up space and demolishing buildings, clearing the way to build new facilities for clinical care.The PSC will also establish a critical link between clinical care, learning and discovery across the SickKids campus.
"This building will set a new precedent in workplace design to support integrated health-care delivery," says Patrick Fejér, Project Lead and Senior Principal at B+H. "As one of the most highly-regarded paediatric health-care institutions in the world, SickKids requires a first-of-kind facility that embodies the institution's commitment to excellence in care, research and education. The building will serve as a vessel for realizing SickKids' preferred culture and its connection to the community."
The new tower, comprised of approximately 22 storeys, will be designed to create a state-of-the-art, inspiring workplace environment where staff are able to be at their best and support the operations of the hospital. Consistent with B+H's longstanding commitment to sustainable design and SickKids' Environmental Sustainability Performance initiatives, the building is targeting a minimum of LEED Gold Certification.
B+H's approach is data-driven and informed by scenario development, prototyping and testing to deliver future-flexible solutions. Their internal team will work closely with structural engineers from Entuitive, mechanical engineers from TMP, and electrical engineers from MBII.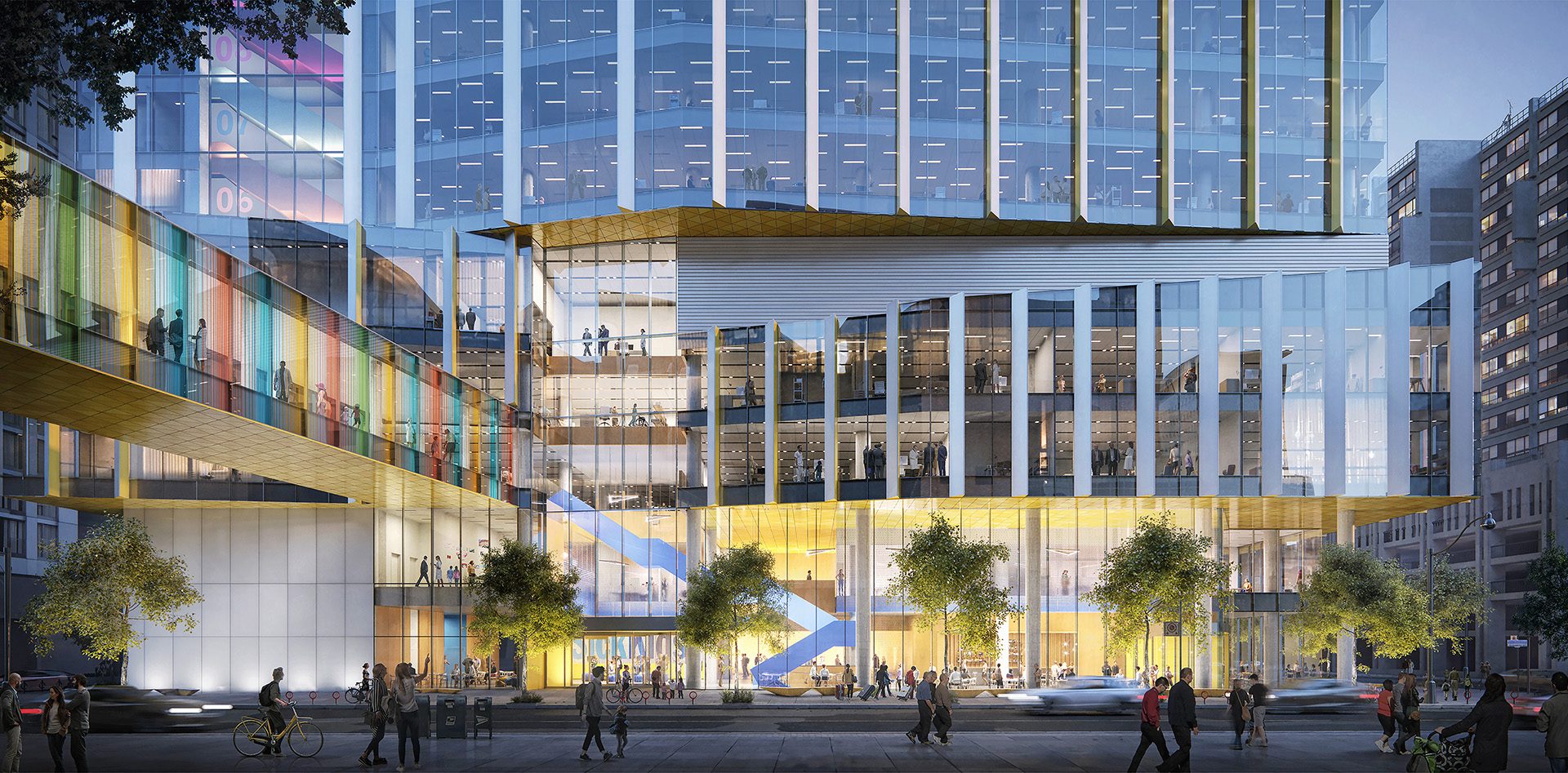 The new PSC will be designed as a transformational catalyst for the way SickKids works, intended to nurture andempower the organization's talent base by inspiring collaboration and innovation. The design will seek opportunities to facilitate chance encounters, bringing together colleagues from different disciplines and functions to encourage spontaneous dialogue and facilitate knowledge sharing.
Healthcare Campus as Community Anchor
Milton District Hospital
Located at the northwest edge of the Greater Toronto Area in Ontario, Canada, the town of Milton is a community of over 100,000 experiencing a period of sustained growth. Responding to the requirement for more infrastructure to adequately support Milton's growing and broad cross-section of need, Infrastructure Ontario (IO) and the Ontario Ministry of Health and Long-term Care began working with Halton Healthcare Services (HHS) to expand Milton District Hospital (MDH) using IO's Alternative Financing and Procurement delivery model.
B+H Architects, working with RTKL as a sub-consultant, provided Prime Consulting Services to PCL Constructors Canada as design-builder under a Design-Build-Finance-Maintain delivery model which saw an expansion of 330,000 square feet of patient-centred space to more than triple the size of the existing healthcare facility. Doubling its inpatient bed count from 63 to 129, this redevelopment is now better equipped to serve the needs of one of Canada's fastest growing communities – aiding patients, families, caregivers, and practitioners alike.
A Community in Transition
Once a rural agricultural and industrial community, the town of Milton now represents a cross-section of the boom in population and immigration that continues to drive prosperity and need in southern Ontario. The town's proximity to southern Ontario's largest urban centres, as well as it's natural context, located within the region's most productive agricultural lands, have contributed to its population influx which includes both young and old with diverse sets of religious and cultural backgrounds.
This increase in population and the diversity of its inhabitants were important catalysts for the redevelopment and expansion of the MDH, which remained relatively unchanged since its last expansion, over 20 years ago. In the intervening time, much had changed in healthcare delivery, and fundamentally, the existing hospital lacked both scale-ability and the necessary modern infrastructure to adequately support the community's diverse needs.
Strategic Vision: Key Project Goals
An intensive focus on the patient and family experience informed the clinical planning and architectural design. The entire spectrum of experience, from first arrival to final discharge, is safe, convenient, sensitive, and dignified.
A safe, healthy, and collaborative work environment is enhanced through our design which provides comfortable places to gather, both formal and informal, adequate storage space, transportation, and reduced risk of workplace injury through a functional planning approach.
State of the art operational objectives are supported by a built environment that does not hinder technology but makes it more accessible and less intimidating to patients, families, and staff.
Short- and long-term flexibility are addressed through a modular design and adaptable systems that make transitions simple and quick.
Design Rationale: A Holistic Approach to Healing
Taking cues from hospitality design principles, the MDH expansion blends evidence-based healthcare design strategies with a hospitality approach to create healing and empowering environments that are welcoming and patient/family-focused.
Visual references that embody the natural environment and agrarian history of Milton are used throughout the facility, such as 45 murals featuring original photography of the local landscape and trees and plants native to Southern Ontario. The murals are enlarged to scale to provide patients and visitors with a sense of calm and respite as they navigate through the hospital's various departments.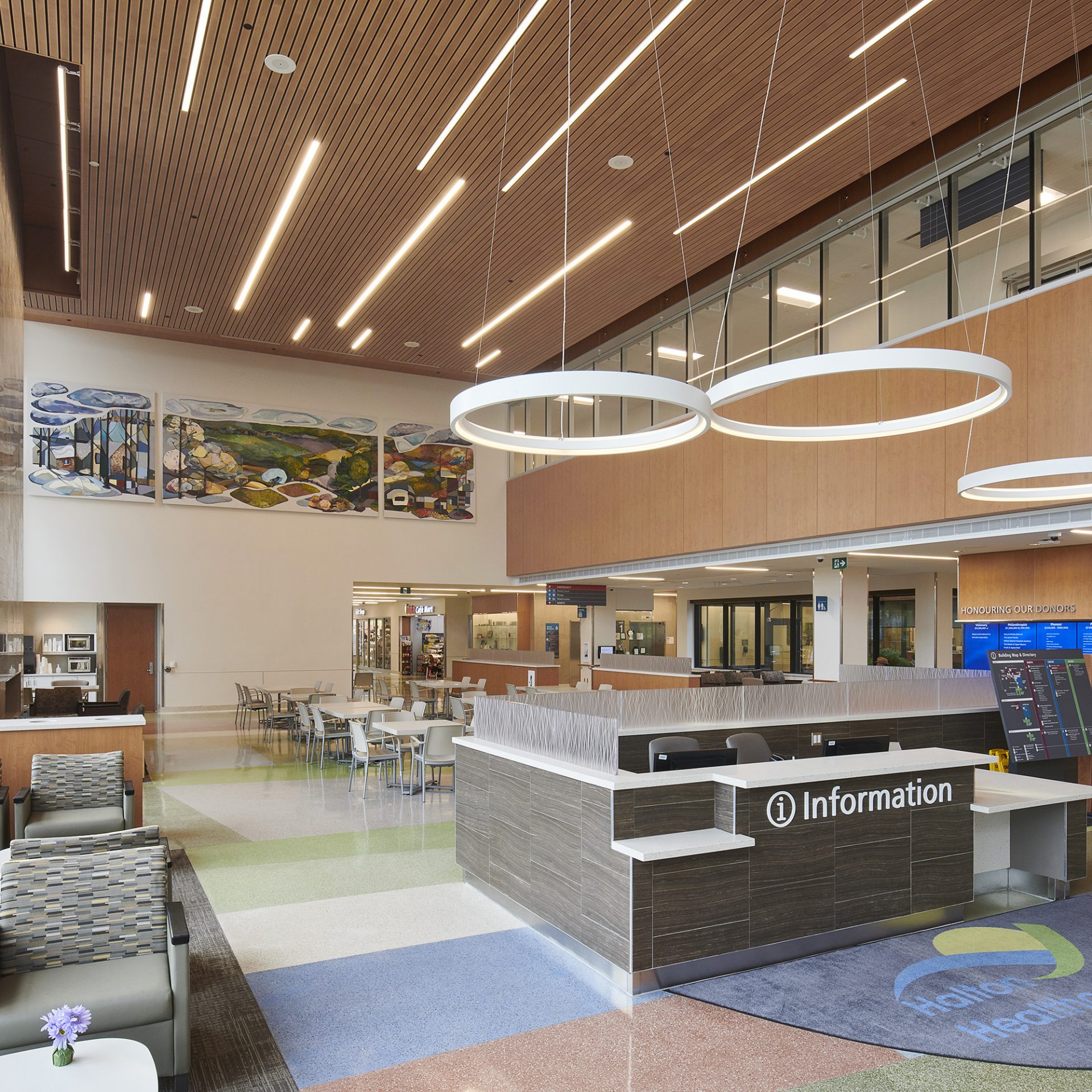 Locally-quarried limestone and water features reference the neighbouring Niagara escarpment. Multi-coloured terrazzo evocative of Milton's agricultural landscapes. Enhancing the human experience and inspired by nature, exterior and interior elements include artistic details that promote the psychological and physical health and well-being of all its users.
The use of gardens and interior courtyards throughout the facility establish harmonious indoor-outdoor connections while natural daylight filters through spaces and assists with wayfinding.