Project Photos
Located at the northwest edge of the Greater Toronto Area, the town of Milton is a community of over 100,000 experiencing a period of rapid growth. The town's proximity to southern Ontario's largest urban centres and its natural context within the region's most productive agricultural lands, have contributed to its population influx, which includes both young and old with diverse sets of religious and cultural backgrounds. The increase in its population and the diversity of its inhabitants were important catalysts for the redevelopment and expansion of the Milton District Hospital (MDH), which has remained relatively unchanged since its last expansion, over 20 years ago.
By putting people first – patients and their families, as well as the staff at MDH – the design prioritizes healing and supportive environments that address the 'whole' person where physical, mental and spiritual well-being are interdependent. Design revolves around spaces that maintain privacy and dignity; are safe, warm and positive; are light-filled with both interior and exterior views that reduce stress and promote healing; that support healthy lives and enable patients' education; and provide easy accessibility to resources. Capping off this human-centred approach are Lean, evidence-based design principles and Halton Healthcare Service Corporation (HHS) standards to help the hospital maximize its resources and realize economies of scale.
Visual references that embody the natural environment and agrarian history of Milton are used throughout the facility. Locally-quarried limestone. Water features referencing the neighbouring Niagara escarpment. Multi-coloured terrazzo evocative of Milton's agricultural landscapes. Enhancing the human experience and inspired by nature, exterior and interior elements include artistic details that promote the psychological and physical health and well-being of all its users.
MDH's holistic approach to healing includes the hospital building and the design of its overall site plan. Leveraging the healing power of nature, diverse garden areas animate the grounds, help to reduce stress, and establish harmonious indoor-outdoor connections while natural daylight filters through to connect to nature from within. The landscape design responds to the site, urban context, and architecture to reinforce MDH as a welcoming and healing healthcare campus set in a natural escarpment setting.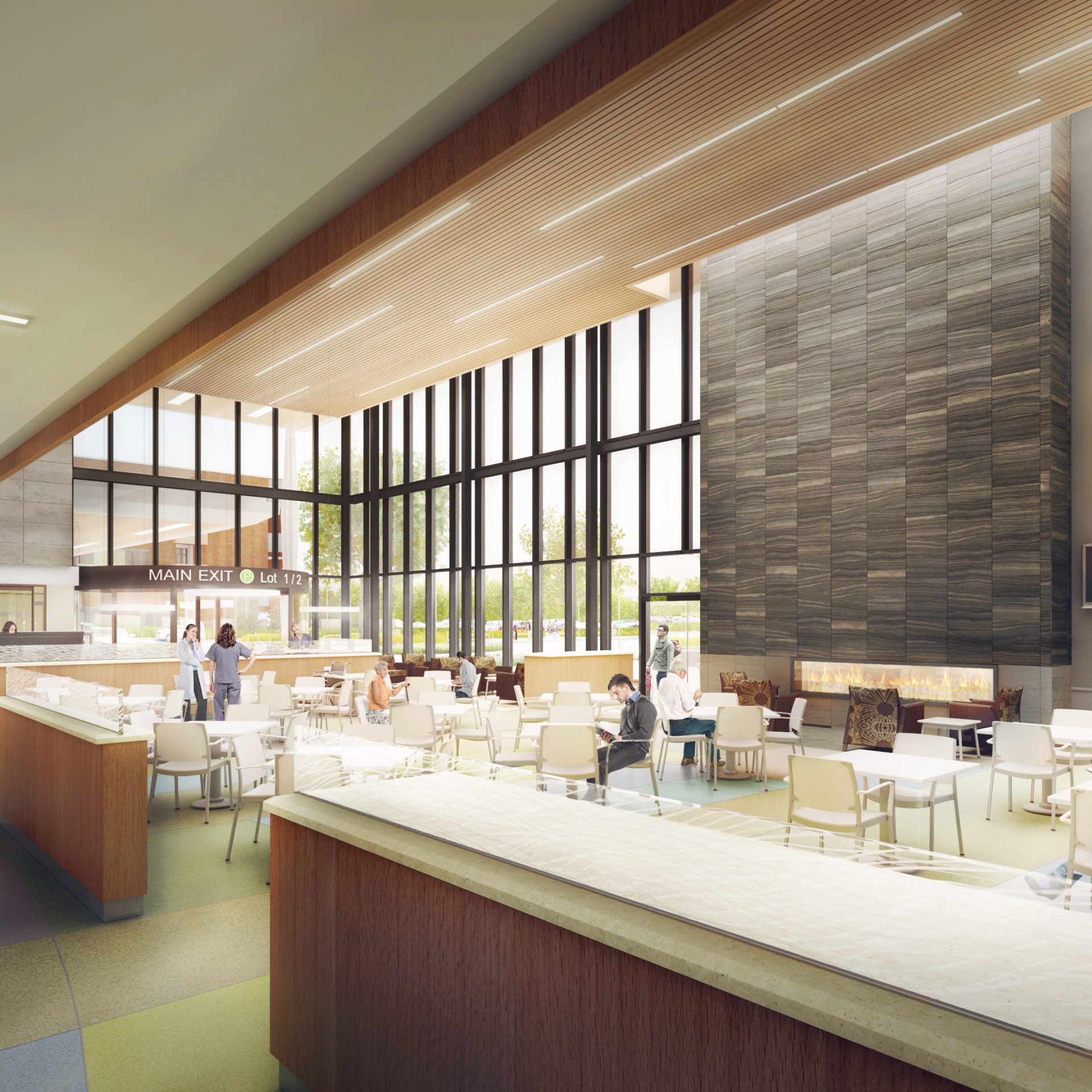 Doubling its inpatient beds from 63 to 129, the redevelopment is now better equipped to serve the needs of the people of Milton – aiding patients, families, caregivers, and practitioners alike. The expansion includes 80% single-patient rooms for improved infection control, patient privacy, and a brighter healing environment. The new MDH expansion provides a sense of place for the community of Milton, now and into the future. Its patient- and family-focused design empowers patients, fosters a positive work environment, is community-centric, and flexible enough to adapt to support emerging thinking, practices, and technology, while allowing for adaptation to suit the town's growing healthcare needs.