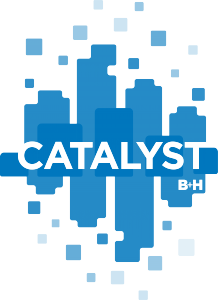 B+H is home to a diverse and talented team of curious designers, placemakers, strategists, storytellers and creative human beings, collaborating across 10 studios and 5 countries around the world.
We believe in embracing change and challenging the status quo to deliver resilient, healthy environments that make positive contributions to their communities and are characterized by vibrant human experiences.
"Given the platform, opportunity and resources, we believe that an organization's own people are one of the greatest sources of ideas and innovation. I couldn't be more excited to see how this year's talented group will work together over the next several months to expand our perspective, make an impact and create meaningful progress towards B+H's strategic goals" Bill Nankivell, CEO
We're thrilled to announce the launch of B+H's inaugural Catalyst Talent Program, an annual forum designed to inspire discovery + innovation and generate ideas for meaningful and immediate change, with global applicability.
Over a 4-5 month period, select participants will have the opportunity to collaboratively define and investigate a research focus that must be in support of B+H's strategic priorities and long-term goal to have a sustainable and transformational impact on spaces, communities and economies. The team will have a research budget, access to a multi-disciplinary advisory committee, facilitated introductions to relevant individuals, organizations and associations who can provide a relevant perspective and the full support of B+H behind them. The team's work will culminate in a presentation to share learnings, recommendations and areas for further exploration to B+H leadership and all studios.
Scroll down to learn more about our 2019 B+H Catalyst Cohort, Quan Yin, Boian Dabov, Eline Vermeulen and Wesley Gross.
Over the next several months, you'll have the opportunity to share their journey through photos, video, sketches and written posts, which will include a week spent together based out of our Ho Chi Minh City studio, collaborating, researching and immersing themselves in the local culture. The host studio for the B+H Catalyst Talent Program will change every year, with the intent of fostering a global perspective through immersion in a different culture.