Project Photos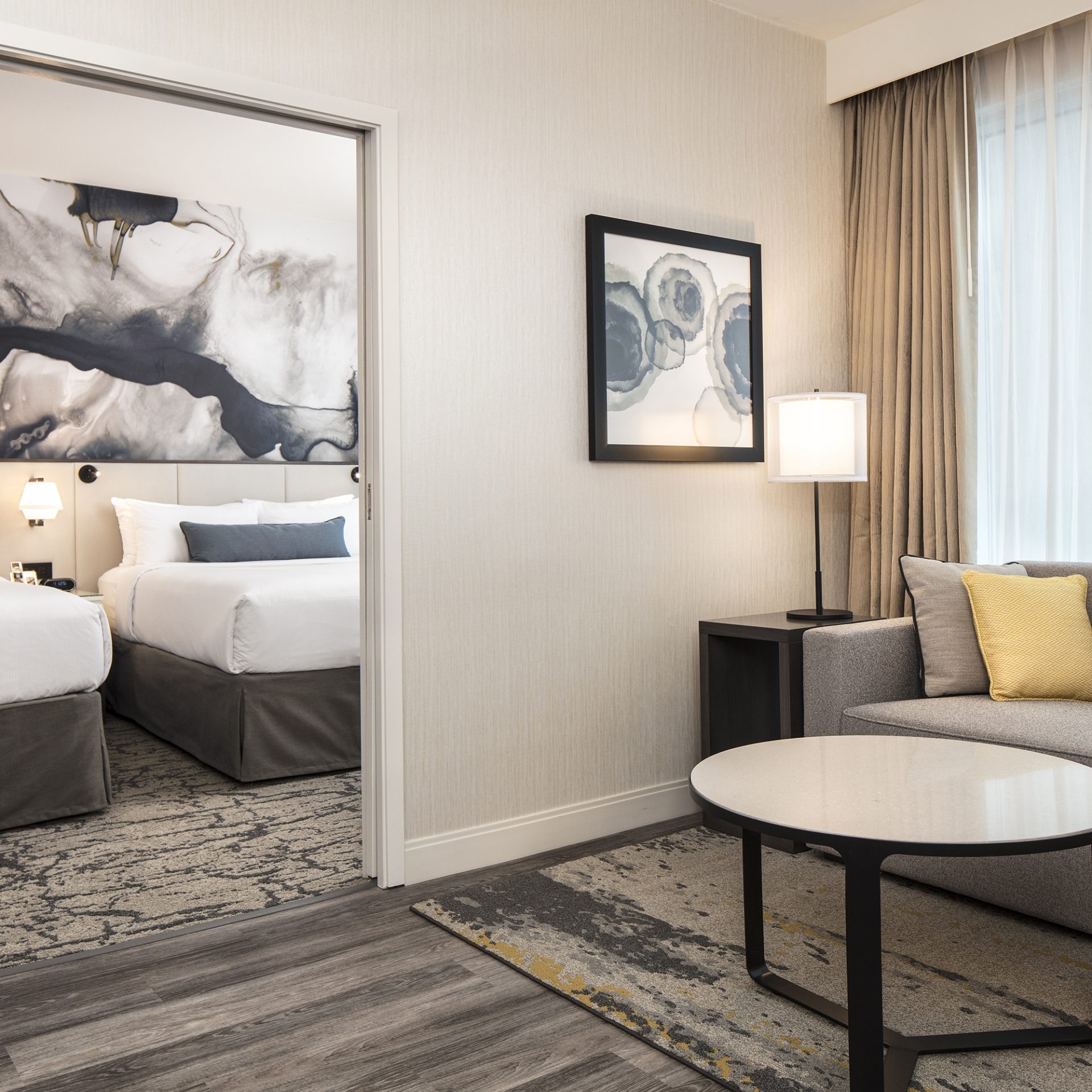 Originally built in 1997, our client required a fresh design program for the hotel's guest suites: one that would complement the tastes of today's modern traveler while also referencing Vancouver's kinetic urban energy. With a sharp focus on the hotel brand's main principles of creativity, character, and comfort, and a nod to the location's regional context, the CHIL Interior Design team worked with our client to develop a balanced design concept that delivers a distinct style, unique to Delta Vancouver Suites. Inspired by the juxtaposition of the hotel's natural setting – its proximity to the mountains, ocean, and city centre – suite designs fuse these contrasting elements to offer guests a uniquely Vancouver hospitality experience.
The modern design scheme creates a cool, sophisticated, and comfortable atmosphere, offering the perfect retreat after a day of business meetings or exploring the city. A soothing palette of watery deep blues and greys surrounded with wood veneer millwork details pay homage to the city's natural setting. Clean lines, neutral tones, and modern furnishings, paired with fabrics in hues of smoky dark blue, immediately connect guests to the city's urban ambiance. Thoughtfully placed abstract artwork echoes the fluidity of the surrounding ocean.
Our team was challenged with elevating the overall guest experience while working within existing building features. Wanting to increase the size of beds, we had to work around existing wall configurations to find the best way to accommodate our client's request. To make efficient use of areas within limited spaces, our team integrated side tables with headboards without compromising priorities of comfort and style. The transformed suites also included new deluxe urban kitchen suites and bright and modern updates to bathrooms.
Guestrooms are defined by uncomplicated and subtle design elements that combine seamlessly with organically-inspired details to achieve an inviting impression of warmth. These design features reinforce the feeling of being enveloped in a calming, laid-back atmosphere while distinct elements infuse a unique sense of character into the overall design.
The end result is a design that is well thought-out, contemporary but functional, and will endure until the next renovation.