Project Photos
PERCH
Perch is a full service restaurant and lounge located within the new student union building. Drawing inspiration from the architectural Nest located in the atrium — the restaurant, perched atop the building, is providing a reflective look at the surrounding grounds referencing the past, present and future of the university and its students. It is a modern and sophisticated environment geared towards the university and Vancouver's competitive restaurant culture.
Designed with flexibility in mind, the lounge space allows customers to sit and chat with friends or to meet and discuss University business. Movable seating groupings within the dining area allow the space to transition smoothly from afternoon lunch to a more formal evening service, helping to showcase the fresh and sustainable menu. A light palette comprised of white oaks, soft grays and pops of blue create a lofty atmosphere, helping to position this restaurant perfectly within its location overlooking the beautiful UBC campus.
PIE R SQUARED
A high energy and fun gathering space inspired by the guilty pleasure aspect of eating pizza, Pie R Squared caters toward busy student life. Standing height tables serve as a quick pit stop to refuel while organic communal tables allow for larger parties to sit and share an entire pie.
Exposed concrete, large graphics and durable yet thoughtfully designed furniture were selected to keep pace with the large student and facility crowds. Vibrant reds and slick surfaces add a quirky and unexpected quality to this casual space where indulgence, honesty and acceptance are the conceptual drivers for this restaurant.
UPPERCASE AND LOWERCASE CAFES
Uppercase and Lowercase Cafes are inspired by a modern take on the neighborhood café, where you can sit and chat with friends or grab a coffee and snack on the go. Long banquette style seating creates a sense of community by encouraging students to share the space and adapt the environment to suit their immediate needs.
Colour inspiration and classic styling borrow heavily from the traditional 'professor' look with cognac leathers and subtle plaid upholstery. Milk bottle lighting runs the length of the service counter while warm white oak woods create an inviting atmosphere.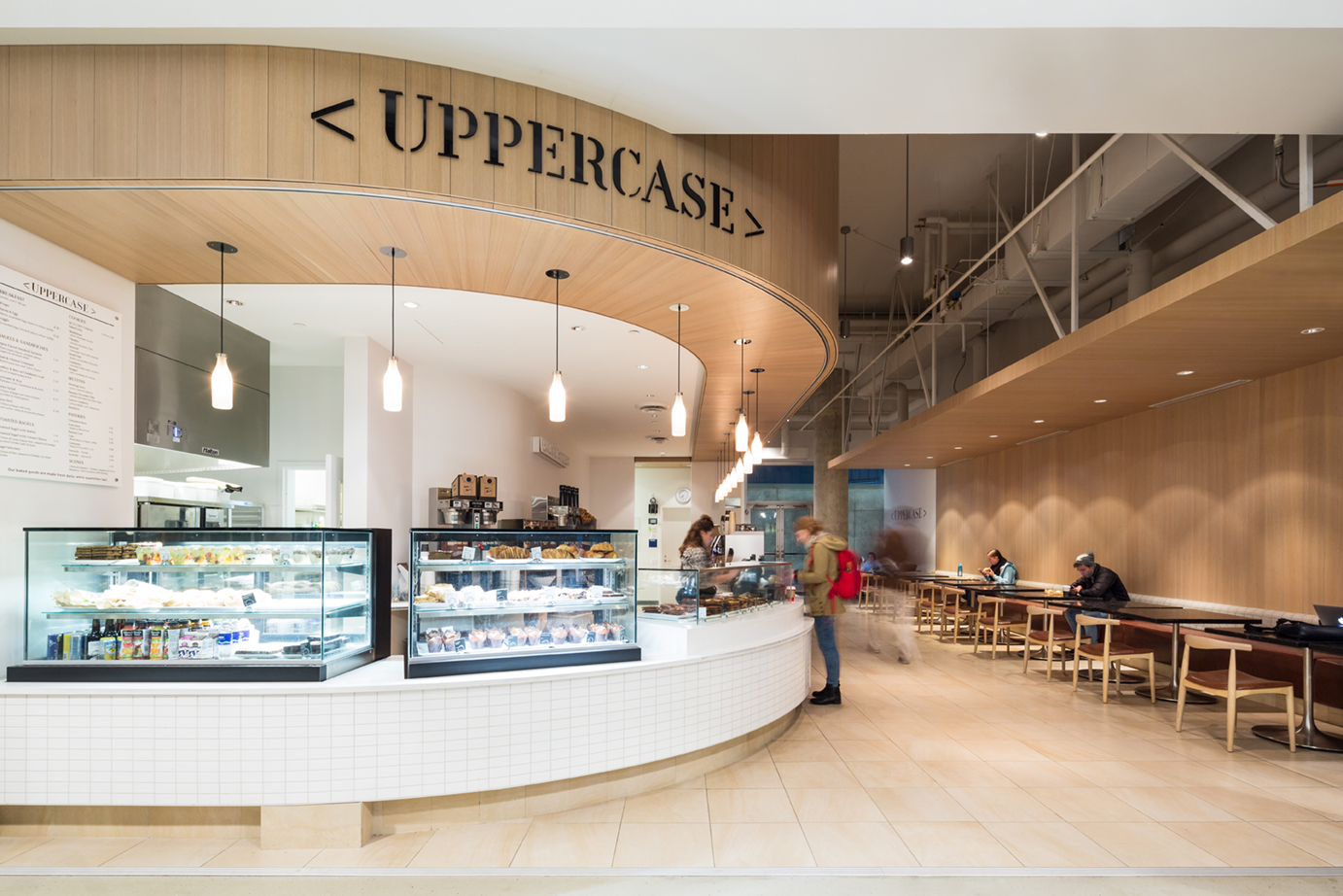 PALATE
Palate is grab and go style Soup, Salad and Wrap Bar geared towards those who are health conscious amidst a busy university lifestyle. The clean and fresh environment is conceptually driven by the growth and transportation of produce. Natural wood, neutral walls and stainless steel add a clean and light quality to the space.
Bright pops of colour in the light fixtures and cash counter bring an element of excitement and fun while simultaneously referencing the fresh fruits and vegetables offered.