Project Photos
Owner and operator of the Toronto Stock Exchange (TSX) and the TSX Venture Exchange (TSXV), TMX provides a comprehensive range of financial, information, and technology services to Canadian and international financial communities. Consolidating three locations, our design team worked closely with the client to customize the office to advance a culture of transparency, collaboration, and innovation across all organizational levels.
TMX's existing workplace had remained unchanged for over a decade and our client was ready to explore innovative workplace trends and how they could contribute to productivity by supporting their brand and people. With over two years of consultation from our design team, informed by a voice of change from TMX's leadership, our client made a commitment to refresh their corporate culture and workspace to support a new way of thinking and working. By inviting possibilities and exploring how spaces can contribute to a more inviting and transparent culture, the company moved away from their traditional work environment to a new, flexible and dynamic layout.
Our team examined various workplace strategy precedents and their applications to the goals of the transformation of the TMX brand. Through close collaboration, we developed clearly-defined space typologies to best suit the company's unique vision. Through robust programming, planning, and a preliminary design effort, we developed a new vision that was embraced by the client's Executive Suite as the ideal way to introduce a rejuvenated culture into the workspace.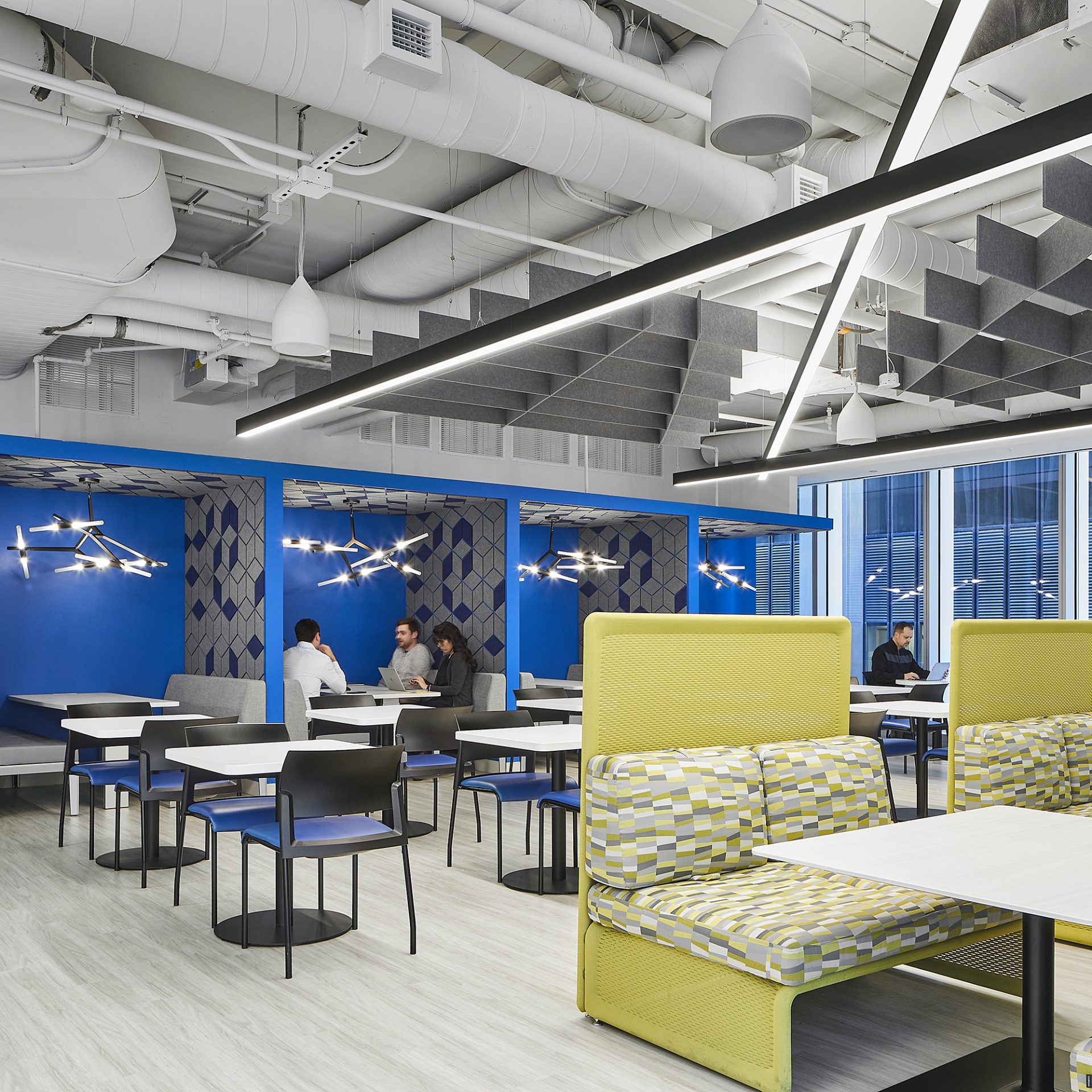 TMX's workplace offers clear sightlines, inviting engagement and dialogue. Communal gathering spaces encourage teams to support each other to achieve goals. Desking is pulled away from windows to allow views through full height glass and creates team collaboration zones and focused work pods along the perimeter. Our design team seized the opportunity of a new building to align base building provisions with the future vision. We removed the base building t-bar tile, lighting, and HVAC. We exposed the concrete deck, buried future conduit pathways in the slab, and redesigned the duct system with oval spiral ducts in lieu of standard rectangular ones. The resulting raw open ceiling achieved a tech aesthetic and is unique to all other floors in the 100 Adelaide building, while saving material costs and diverting a significant amount of demolished material from the landfill.
The overall design of spaces at the TMX Group Headquarters prepare the company and its team for the future by offering innovative spaces and inspiring the type of collaboration, transparency, and ongoing dialogue that will be crucial to living the TMX brand promise and inviting company productivity.
Our new café and patio space is more than just a place to eat and has become our centre of activity. Employees use it as a flexible workspace and find themselves bumping into colleagues and clients they don't typically work with. They have the opportunity to connect and collaborate in ways that were never possible in our previous space. ~ Frank Di Liso, VP, Corporate Finance & Administration