Comfort as Luxury
Hospitality Design in the Experience Economy
By Adele Rankin
Comfort has surpassed its competing features of hotel living as the new modern. By focusing on comfort, hotel brands can attract the new media: influencers that shout from the Instagram rooftops and belt out blogs of travel tips. These influencers are setting standards with their "do-it-for-the-gram" passion. With this standard, influencers need those insta-worthy moments and wow-factors to document, but they also need something more, something that brings them back and keeps their posts positive – comfort. Comfort as Luxury is more than soft pillows and clean rooms. Comfort as Luxury feeds the new modern traveler's desire to work in a collaborative yet inspiring space, have the opportunity to be social with photographable meals, and finish their adventure with a good night (or morning) of rest, all with a touch of extra special customer service. This new modern isn't just a one-time experience, it's a series of experiences that create a journey. From the moment the guest steps into the hotel to their final goodbyes at check-out, the guest should feel like their individual experience was tailor made and their every need was met.
WORK
In the past, working at a hotel meant sitting alone in your small room, at a small desk, facing a wall with a half-decent painting. This works for some people, but as we move more and more into an experience-driven culture, the way people want to work when away from home has changed. The idea of being "alone together" while working is gaining popularity. More hotels are partnering with or becoming their own co-working company. Design is critical to making these plays successful. Incorporating transformative spaces into hospitality design is especially important for modern business travelers. A question we must ask ourselves as designers is how a space can be used as something completely different? While we tend to focus on larger spaces for these transformations, smaller scale, guestroom-level changes are just as effective. Above all else, people want to look at the hotel as a community, as a hub.
Some examples of where we at CHIL have implemented this new approach to working at a hotel are the Delta Calgary Downtown and Fairmont Hotel Vancouver. At Delta Calgary Downtown, we created a space that was between the lobby and bar that serves as a quiet moment for a guest to do anything they want there – frequently, it is utilized for work. We believe that if you are going to put a desk in a room, make it an inspiring desk. And if you can place it in front of an inspiring view, do so. This is what we did with Fairmont Hotel Vancouver, allowing the workspace to still feel elevated without needing to create an entirely different amenity space within the hotel.
PLAY
As hotels move toward being communities unto themselves, the "play" aspect of hospitality has received more emphasis. Hotels need to create experiences in order to be part of the experience economy, and one of the ways this is being expressed through interior design is with porous food and beverage. Walking into a lobby that has no distinct boundaries between itself, the bar, and a restaurant infuses energy into the space immediately. Designing F&B this way encourages guests to come in and have a truly comfortable experience – and one that they can truly make their own. At CHIL, we utilized this in our design for Marriott Vancouver Airport's Lobby/Bar/Restaurant, maximizing comfort and reducing barriers.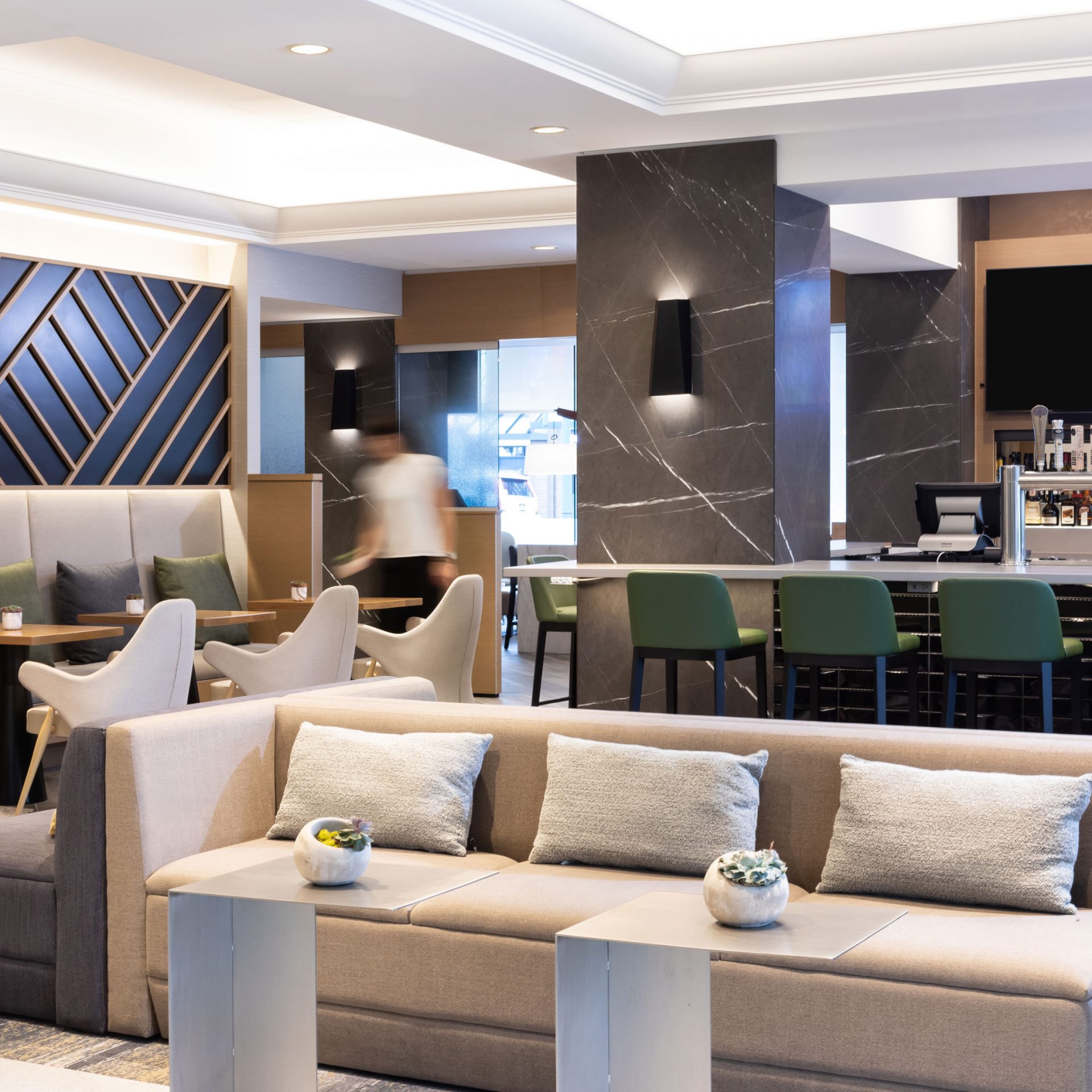 Another key to enhancing the "play" aspect of comfort is to add some personality. Hotel operators aren't shying away from taking a stance, and no one wants to blend in or be homogeneous anymore. Going bold with a design concept helps to create more of those "insta-worthy" moments, and develops a one-of-a-kind experience for guests. Understanding the target demographic is key here, as we found with our design for the Belmont Hotel in Vancouver. Their guests tend to be younger and grittier, expecting something edgier out of their hotel stays. We reflected this personality through bright colours, striking patterns, and cheeky details.
Play also includes fitness, and there is no better way to make someone feel comfortable than to provide them the opportunity to exercise in the way they are used rather than just a generic gym. Examples of this have included Peloton spin rooms, MMA training gyms, and full yoga studios.
Allowing guests to "take comfort home" with them is a way to keep the experience going, even once the hotel journey has ended. This has less to do with interior design, and often is driven more by trends, but can include things like having a hotel-branded gin, body lotion, or scent or making items such as the mattress guests slept on or the art hanging in their rooms available for purchase after a stay.
To be willing to play, a guest must feel comfortable. Hotels can now foster this on their own sites through intelligent interior design.
REST
Without a doubt, "rest" is the most common way to think about comfort in a hotel. Outside of the bathroom, the bed is the most important aspect of the room; it serves as the focal point. Making the bed feel like a special place, an experience unto itself, is key to creating that sense of comfort as luxury. At the Novotel Hotel in Toronto, we achieved this by creating a large, bespoke art piece directly behind the bed. In Fairmont Hotel Vancouver, the elegant four-post frame makes the bed feel like an oasis within the room.
Providing guests with the ultimate comfort of being able to exercise without leaving their room fosters a different kind of restful atmosphere. Additionally, utilizing technology so that guests can control their own comfort develops a distinct sense of luxury. It creates the ultimate flexibility, allowing guests to set things like audio and light levels to their exact preferences.
Finally, the bathroom cannot be forgotten as a place of luxurious rest. In the Fairmont Hotel Vancouver, a deep spa tub is provided – and while it may rarely be used, the comfort is in having the choice. The design choices don't always have to rely on having the kind of space for amenities like spa tubs, however. At The Belmont Hotel, we utilized elements that create comfort and inspiration, making the bathroom a place that is enjoyable to be in.
Within the experience economy, comfort is really about customization, personalization, and flexibility. Listening to and thinking about the guest. All of which comes together to create that feeling of luxury every guest is after, even when not staying in a traditionally "luxury" hotel.