Project Photos
Toronto's Lower Yonge Precinct redevelopment plan is a response to the needs of this evolving city. Poised to transform the waterfront into a lively community and destination for people to eat, live, work, sleep and play, this 22.2-acre redevelopment is poised to become a vibrant new community through a strategic mixed-use plan focused on sustainable high-density principles. The first phase spans across 11.5 acres and features four to five million sq. ft. of mixed-use space. The 25-storey, Class "AAA" LEED® Platinum commercial and retail building planned at 100 Queens Quay East is an integral component of the first phase of the area's plan, setting a precedent for this future community.
100 Queens Quay East features a 775,000 square foot office tower above a broad 2-storey green podium roof, and 85,000 square feet of retail at podium level including a 25,000 square feet LCBO Flagship Retail Store at ground. It has provisions for a large food market and will include the new headquarters of the Liquor Control Board of Ontario (LCBO). A place of work within this predominantly residential community, the tower creates a level of density at the south corner of the plan that's required for this urban hub.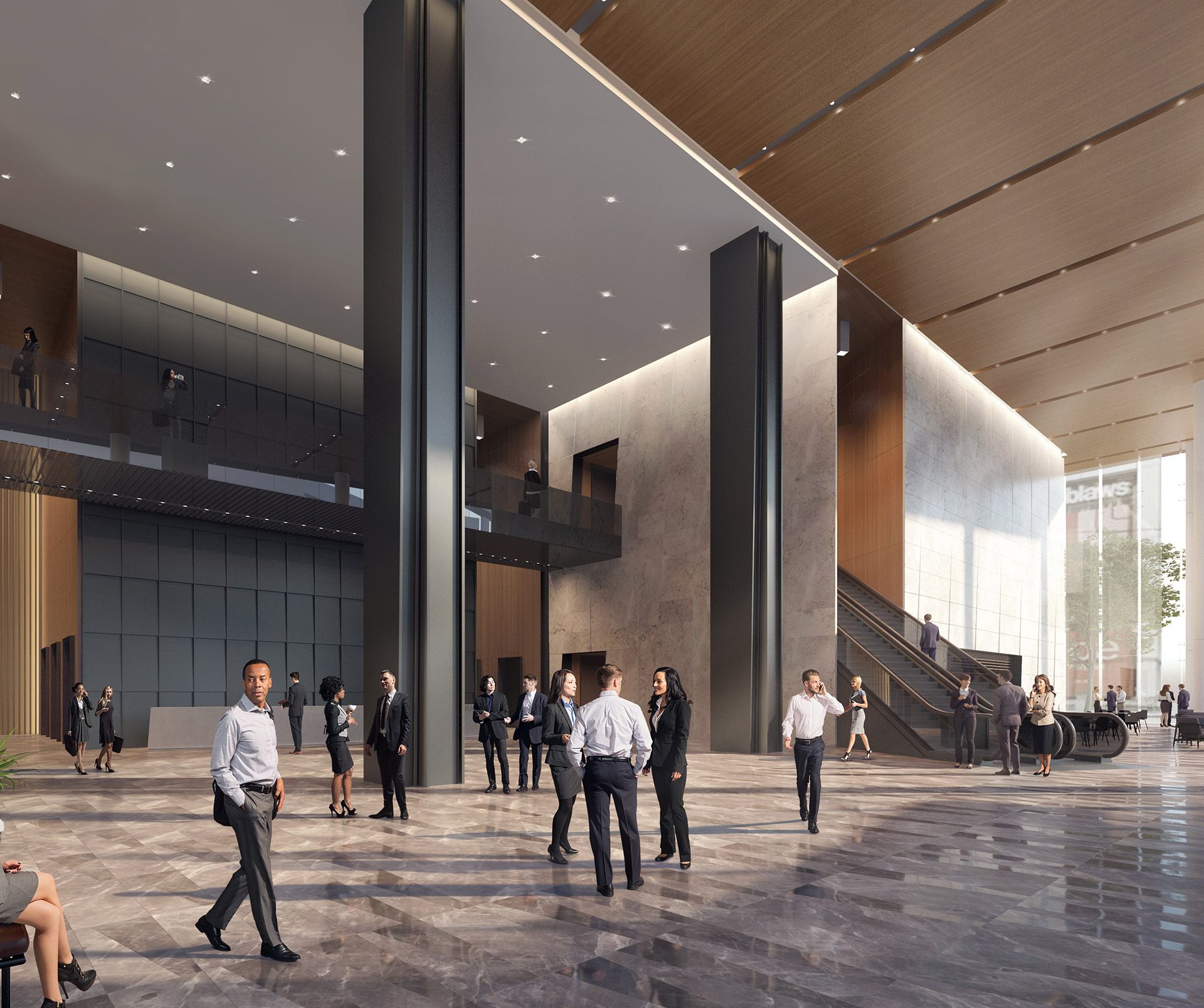 Connections in the building are accommodated through joining floors and a potential atrium designed for collaboration, while internal spaces allow for flexibility. While fostering connections among individuals is key to creating livable communities, it's equally important to create connections with nature, particularly within the city. At 100 Queens Quay East, this connection is created through the implementation of, and subtle reference to, natural and green features. The façade features accents of inward angled glass panels that optically fragment the face of the building to create a shimmering plane reminiscent of ripples on the surface of a lake. These sloping panels produce dynamic reflections of the surrounding environment – reflecting the nearby park, the building's green roof and the sky.