Project Photos
BlueRock Therapeutics' expanded to Toronto with the ambition to establish itself as a magnet for product development and commercialization in Canada's biotech sector.  As a world leader in regenerative medicine, their functional space requirements included laboratories, open office space, meeting rooms and support spaces, including a GMP-compliant pilot lab for stem cell research.
Creating a home at the MaRS II Tower was a natural choice – its ecosystem for innovation in biotech and its laboratory-responsive infrastructure and service core was well suited to BlueRock.  By engaging with the B+H Advance Strategy Visioning process, BlueRock determined that beyond meeting pragmatic requirements, their project vision was to create a singular workspace that would become a physical manifestation of their culture and brand, attract and retain top talent, foster industry and institutional collaboration and partnerships; indeed, to shape a prototype for future BlueRock spaces across North America.
This holistic vision lead to a rethinking of their original Space Program – through several collaborative workshops to understand laboratory processes and operations, flow of materials and personnel, and partnership scenarios, B+H set out a framework for space allocation between GMP and process laboratories, lab-support spaces, non-lab office, meeting and presentation spaces and collaborative and social space.  This exercise revealed that BlueRock had to acquire additional space to meet their functional requirements and fast-growing core staff, and another laboratory in the adjacent tower was reimagined as an integral part of this project.
The design team created a cohesive vision for two disparate spaces to encompass BlueRock's vision and program requirements.  A palette of spaces fostering culture, curiosity, collaboration and discovery were created, which could be applied both renovated and new workspaces.  Open, studio-like, tech-enabled, lighting-enhanced, reconfigurable co-lab zones with integrated kitchenette and presentation capabilities were placed at the heart of both spaces, with open workstations and meeting spaces adjacent to them.  Highly controlled laboratory environs with their own service flows are physically separated but visually engaged with these central hives through glazed screens enlivened with custom graphics based on cell morphology.  At the MaRS II space, conference spaces can open onto the central co-lab zone to host events, and with the goal to showcase science-in-action, include framed views into the pilot lab.  Design details balance modular arrangements and the crisp lines and cleanable finishes of a high-tech laboratory environment with the organic, colour-saturated forms of a highly engaging, energetic, brand-reflective biotech start-up.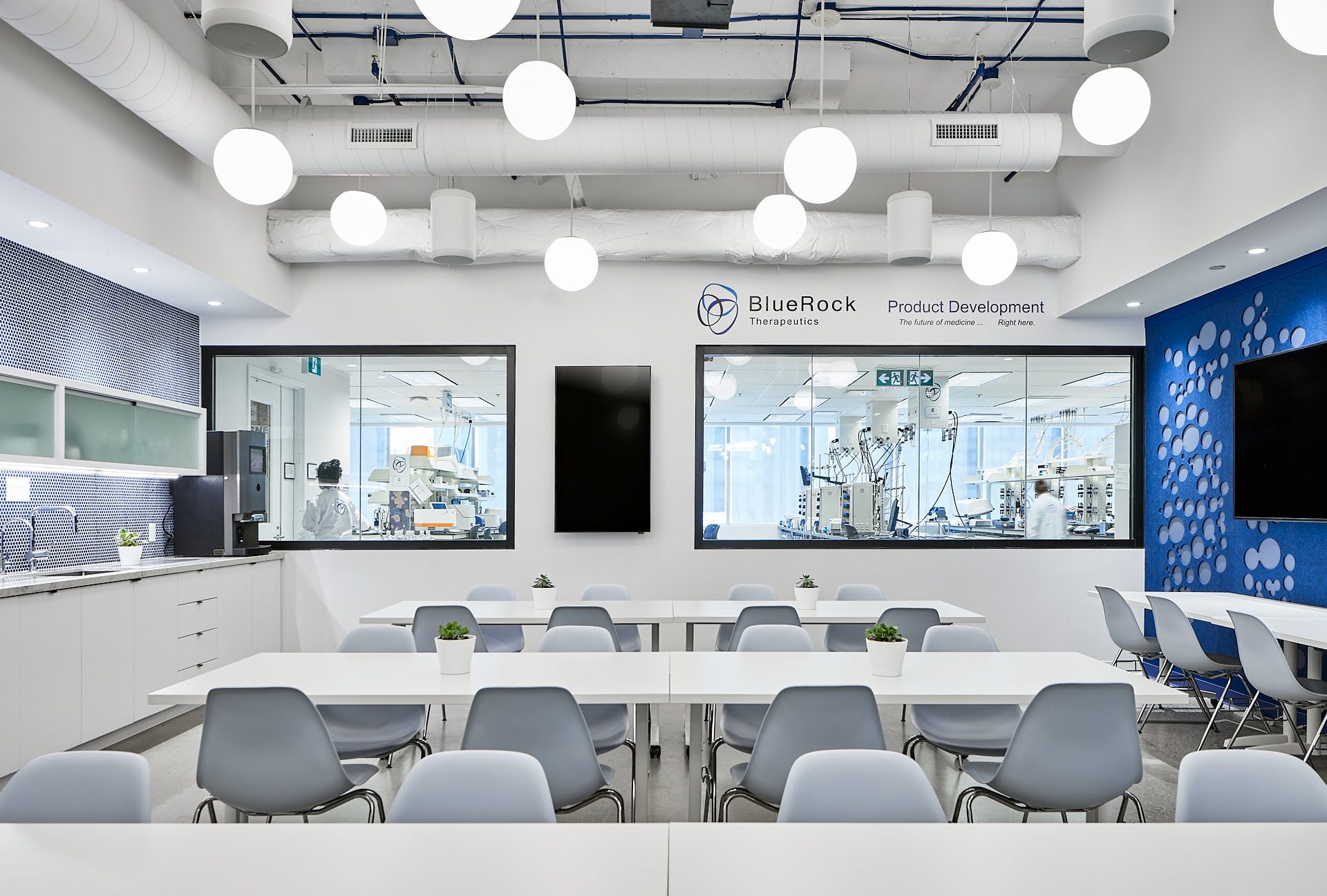 At the project's conception, success was defined as the following: become a bio-tech machine that prototypes cutting-edge therapies in regenerative medicine; optimize scientific resources and flexibility; project firm culture and identity; foster a highly collaborative internal culture and have happy employees and high employee retention; become a catalyst for building an ecosystem for stem cell therapy development in Toronto.  The renovated laboratories have just been occupied to high satisfaction from the client, and as the MaRS II space nears completion, BlueRock is looking forward to testing and achieving these goals.