Project Photos
Tencent is best known for running China's biggest messenger app, WeChat. In recent years, the company's business has expanded into areas including video games, AI, and entertainment and has become the most valuable company in Asia. Tencent operates in a highly innovative industry where top talent is young, dynamic and smart. Our client's vision lies in promoting its global reach and creating a vibrant and collaborative work environment that fosters innovation, sparks creativity, and inspires staff.
Tencent's twin Seafront Towers (rising 50 and 39 storeys) serve as the new home for the tech conglomerate's 12,000 employees and stand as city landmarks. Working as interior designer, B+H worked closely with the client and architect to adapt the concept of a vertical campus to reflect Tencent's community-focused culture. Reminiscent of a university campus, this vertical campus offers amenities for work and play. Tencent's mostly millennial talent will find a convivial workplace environment – part lifestyle hub and part social village – within an ergonomic and modern building. The towers are connected by skybridges, where those moving between towers can interact and meet to create synergies and generate fresh ideas. Each skybridge has its own unique theme.
Health Link
The middle bridge (L21-25) hosts the health link with sports, social, healthcare and meeting facilities. Spaces facilitate physical activity and networking with a focus on balancing body and soul. Interiors are designed to harvest a close team culture in an unpretentious creative campus environment. The atrium, designed as a vertical cliff, brings fresh air and daylight through a central skylight. The focal point is a vertical four-storey rock climbing wall. In the centre of the bridge lies a full basketball court, which can be turned into an event space for lectures, shows and concerts. Other features include a gym with panoramic views, ping pong tables, various play rooms, as well as a floor dedicated to meetings and conferences.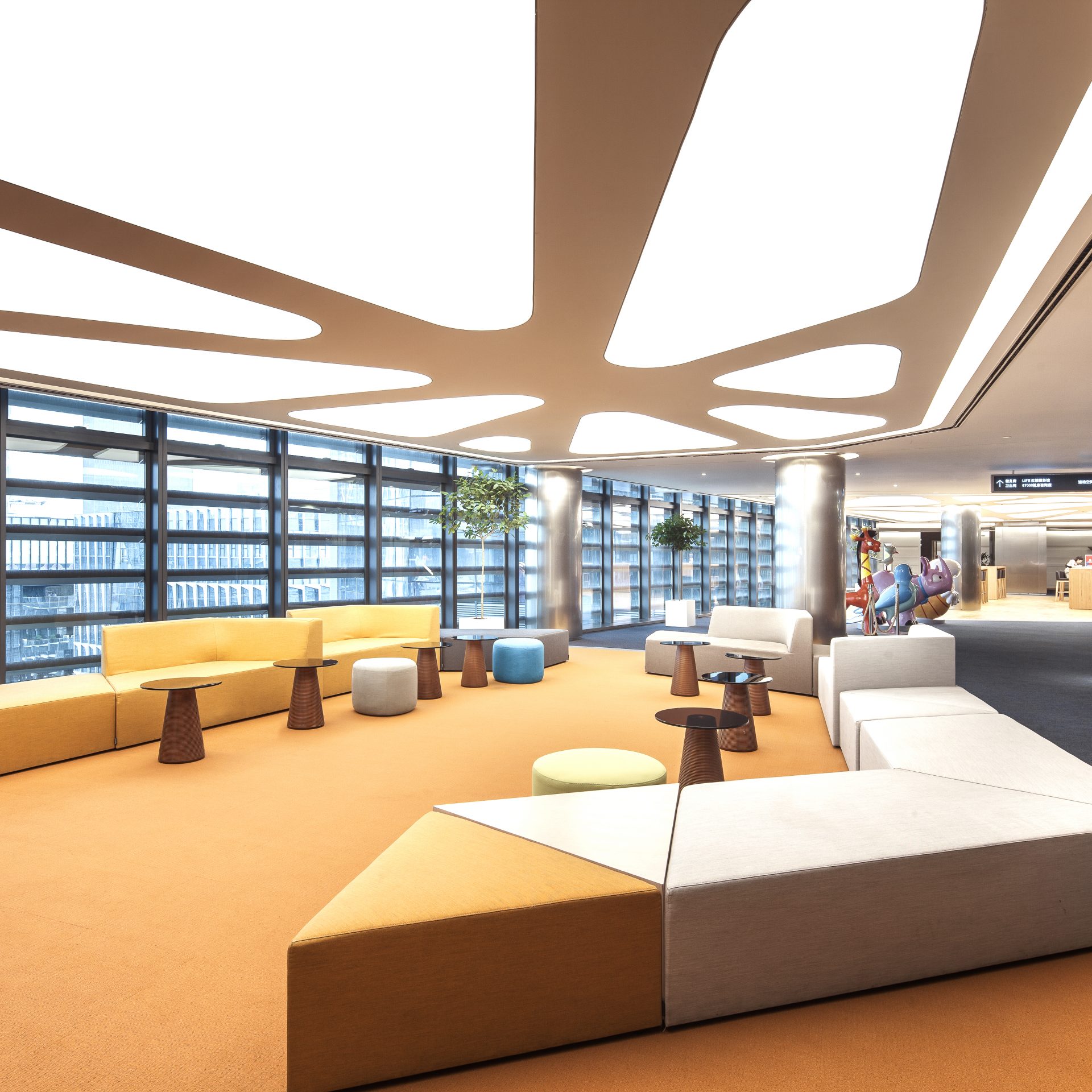 Knowledge Link
The knowledge link is the topmost bridge (L35-38) connecting the North and South Towers. It's composed of over four floors dedicated to the theme of knowledge sharing. The Tencent College revolves around a large daylit atrium as the focus for design. We applied indoor landscape at the base of the atrium, helping to filter air and to create an oasis for staff that spend most of their days at a computer or on their mobile phones. The knowledge link also houses training space, a dining hall, education centre, and meeting rooms. A wide range of settings for casual zones are provided – flexible layouts with amenities that enable staff to easily reconfigure the space.
Swimming Pool
The swimming pool is located on L39 in the North Tower. Inspired by daybreak, the space is clad in a mosaic of tiles, forming an abstract image of clouds. A mirrored tensile fabric suspended from the ceiling reflects the water, pool and swimmers while helping to reflect natural light throughout the space.